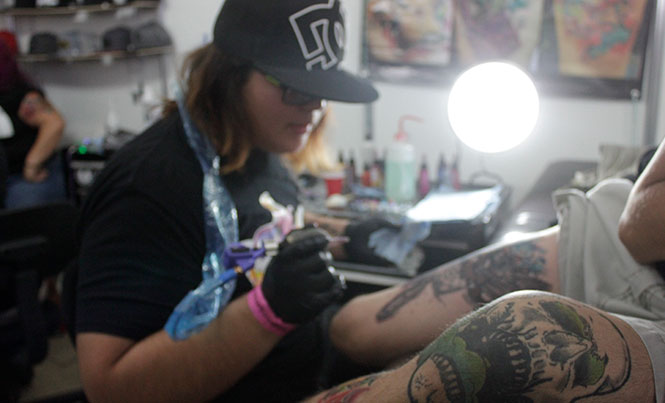 Tattoo art has grown exponentially in the past years, especially in Cancun where beach life plays an important role in social interaction. Another factor that has helped the normalization of tattoos is the internet; people with tattoos are not longer discriminated as they used to be, when tattoos were associated with gangs or crime.
We have so many good artists working in the area that an annual expo has been held since 2013 in Cancun. Mentes Creativas Tattoo Expo took place in Cancun last week, gathering some of the best exponents in the southeast. The big winner of the night was Cancun's hyperrealism prodigy Cesar Casarrubias who got two awards. I got one piece myself with Merida's black realism bad boy, Sleepy Uicab. Check their Instagram profiles; they have amazing work.
The festival will have many different rock bands playing including Dirty Heads and Sublime with Rome.
To me and many more, the great news of the festival was the Upcoming Mayan Mayhem Tattoo and Music Festival 2018. Mayan Mayhem will bring some of the best tattoo artists in the world. When I say the best, I mean it literally; current super stars (like Nikko Hurtado and Ryan Ashley – both combined have over 2 million followers in Instagram) and legendary names (like Bob Tyrrell) will be visiting our town next autumn.
Mayan Mayhem will take place in the Grand Oasis Hotel, so the tickets are for visitors. The only way to attend is by getting the whole package that includes an entire weekend in the fantastic all-inclusive resort. The festival will have many different rock bands playing, including Dirty Heads and Sublime with Rome. Sublime with Rome is the new incarnation of the celebrated 90s ska-punk band Sublime with a new frontman (Band's original lead man Bradley Nowell died in 1996). They will be performing some of their new material and the classics (like Santeria) that are still being played regularly by all the cover bands in Riviera Maya.
Although there are still five months to go, if you want not only to attend, but to get a piece of art on your skin, you better book soon. All of the artists have a really high demand, so they only have room for a limited number of people. For prices and booking visit:
mayanmayhem.com
@theplayatimes