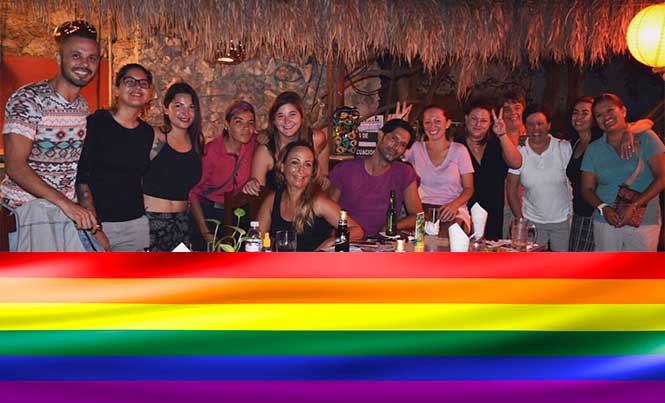 Kicking off Playa Pride 2017: United in Colors, the fair promoted awareness of the business potential in the respect for human rights in all sectors of the community
The launch of the LGBT 'Playa Pride 2017: United in Colors' event, organized by Fusion G Playa Pride A. C., included the first 'Friendly Business Fair' of the Riviera Maya, in alliance with Numbers Verdes Consultoría.
The aim of the event was to increase awareness of respect for human rights, and invite the public to take advantage of the opportunities that exist in the fair treatment of all. Such initiatives strengthen the development of a culture among different sectors (government, business, social, academic and entrepreneurial) with respect to the issues facing the LGBT community, people with disabilities, and other vulnerable sectors within companies, organizations, and in other spaces.
On Monday, June 12, Jan Novak (President of Fusion G. Playa Pride A.C.), Rafael Barragan (Gender Equity and Inclusion Coordinator), Councillor Jesus Caamal (Chairman of the Governance Committee), Councillor Gustavo Maldonado (Chairman of the Sustainability and Environment Committee), and Councillor Norma Angélica Ríos (Chair of the Commission of Vulnerable Groups) held a panel on the importance of inclusion in business.
That evening, 'Homo Emprendus: DNA of Innovation and Creativity', a conference by Humberto Vergara, brought the first day of the fair to a close with an interesting speech on the evolution of the human being and its development through the decades.
On Tuesday afternoon, a younger generation took over. Sergio Téllez-Pon, from Mexico City (writer and translator), Bachelor Luís Roberto Sanchez Hernandez (Founder of Luxury Homes Real Estate Company), Gabriel Leal (Founder of PIXANIL Tour Company), Shava Torres (Marketing Manager, Vlogger and Blogger for Moovz Latino America), Ginger M. (Founder of Life is a Beach Productions and LesMex LGBT Development Company), Monica (representing Nest Coworking), and Irma Granados Zapata (Commission of Human Rights in the state of Quintana Roo in Solidaridad) discussed the business potential of diversity on various levels. Pedro Castillo presented 'Storytelling as a Marketing Strategy'.  A great story will always sell better, what is your story?
In general, the event got great feedback, and I am definitely looking forward to next year's panel. In the meantime, I invite you to the 'LGBT Networking Evening' in collaboration with the 'Friendly Business Fair' which takes place on a monthly basis. Come meet people and connect on Tuesday, June 20 from 7 p.m. to 10 p.m. at Mimosa Resto & Canteen Playa del Carmen.