Vatos King Blues
An Interview with Vatos King Blues, a new band of seasoned players bringing some classic blues to Playa del Carmen.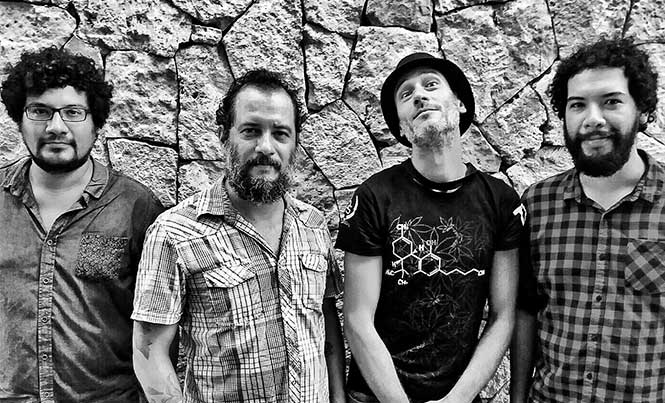 It was a Monday, rehearsal day for Vatos King Blues. The band members arrived one after another at Ricardo Vidal's apartment for the practice. This was going to be an easy interview, I thought. I knew three of the band members and I love the blues. However, I didn't count on the comedic stylings of guitar player, Daniel Apolinar, who had us all constantly laughing. A straight answer to any of my questions was hard to come by. The atmosphere was primed: great people having fun, laughing, and playing great music. You can expect the same charged energy at all of their shows.
After a few questions, the band got into some funky New Orleans flavor with The Meters and the song Hey Pocky-A-Way, some classic blues with Freddie King and Just Me & My Guitar, and Junior Watson's Two Tacos. All in all, not a bad way to start my week.
Vatos King Blues was the brainchild of Ricardo Vidal, who previously played with Los Villanos Blues Band in Guadalajara. Accompanying him in Vatos King Blues is his brother Jorge Vidal on bass. The brothers were part of the award-winning original alternative rock band Teletransportador; however, they left that behind when moving to Playa del Carmen two years ago. In Playa, they are known for their rock cover band, Los Brockolis. Ricardo plays guitar in Los Brockolis and drums in Vatos King Blues.
"I love the blues," Ricardo said. "I wanted to start another blues band for a long time now."
The Vidal brothers brought the band concept to the attention of friend and fellow musician Daniel Apolinar.
Daniel is known in Playa del Carmen as the guitarist of cover band, Procer. Daniel has also performed with La Salamandra and recorded an album under the label Peerless. He performed with KKs Blues and El Chivo Azul. In 2007, he joined the Gustav Mahler Konservatorium in Vienna Austria where he became a jazz guitarist, performing in bands such as Sigma Dixieland Band and Funkorama.
"I am a huge fan of Los Brockolis," Daniel jested. "Sometimes I would spend months, drinking beer, listening and watching them from behind a tree or something."
"So you are kind of a stalker fan of Los Brockolis?" I asked. "Yes, yes," Daniel agreed and we all laughed.
Three weeks ago sax player Manuel Pinos Piedra joined the band. Manuel, hailing from Barcelona, has spent almost three years in Playa del Camren. He has played clarinet with the Symphony Orchestra of Quintana Roo, and Saxophone with both the Big Band Playa del Carmen and the Big Band of Cancún. He has also performed with the Swing Doctors, Mr. Heisenberg Brass Band, and Playa Poppers, just to name a few.
Although Manuel has known Daniel for about three years, he met the Vidal brothers recently at Kitxen bar on Fifth Avenue.
"I had an audition with another band," said Manuel. "Ricardo asked me if I play the blues, and then they invited me to play."
Manuel's saxophone definitely adds the final touches to the Vatos King Blues. And there is nothing like seeing seasoned musicians play together. It's as if they are speaking another language. Their connection to each other comes through eye contact, smiles, and nods, telepathically creating unison within the music. I could see this in Vatos King Blues—it's a comradery unmatched.
"Tell me more about who your favorite artists are and what songs you will be performing," I said.
"Jorge is a huge fan of Freddy King," answered Daniel. "But we are also doing a little tropical fusion, like some Cherry Pink and Apple Blossom White by the Fabulous Thunderbirds."
"How are you performing that without a harmonic?" I asked.  
"Manuel will be performing the harmonica parts on sax," Daniel replied.
Definitely something to see.
"I noticed that, with the exception of Manuel, you are taking turns on the mic. Isn't this your first time singing Daniel?"
"Yes, it is my first howling," Daniel claimed.
"What makes you unique? Why should people go see Vatos King Blues?" I asked.
"In Playa there was no real blues band. There are many bands that sometimes play blues, but it is more rock blues and not blues in the traditional sense. We are also a lot of fun. We are funny people. Ugly but funny," Daniel joked. "And we are not only the best blues band in Playa; we are the only blues band in Playa."
And that, my friends, is as good a reason as any.
Vatos King Blues performs on Tuesdays at 9:00 p.m. at Fah Restaurant & Bar, Wednesdays at Kitxen bar at 9:30 p.m., and every two weeks at Caimen Tugurio. Check out the band's schedule at www.facebook.com/vatoskingblues.
Looking for more music from Daniel Apolinar? Visit Apple Music or Sound Cloud for his latest CD Kalvera recorded with Footprints with Zoar Miranda on drums. Find him on facebook at www.facebook.com/Apolinarmusic.
Teena Clipston has spent more than fifteen years immersed in the Canadian music scene, making headlines in Concert Promotion, Event Production, and Artist Management. She now makes her home in Playa del Carmen, and is the owner and operator of PDCMUSIC.