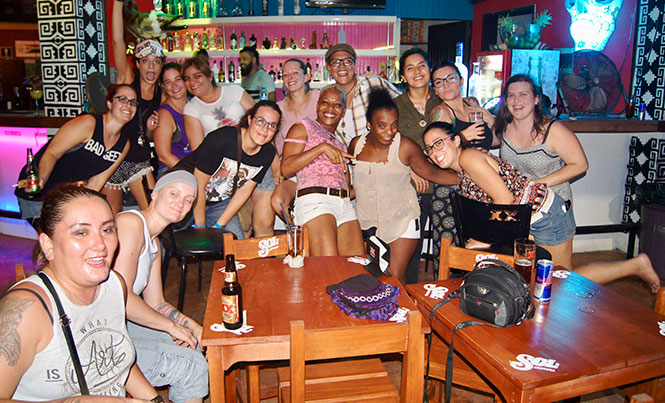 As most readers may already know from my previous article, Playa del Carmen is officially a LGBT-friendly city. So where can we go for a drink any day of the week? Let me introduce you to some of Playa's LGBT-friendly bars where you can enjoy a delightful evening in great company.
Mimosa Resto & Canteen is located on 30th Street between Fifth and Tenth Avenue and re-opened late April of 2017. They joined Playa Amigable, which put them on the map for our friendly community. Don't miss their famous Sunday nights 'Boys Don't Cry' and monthly events, Tinder Tuesday and LGBT Networking Evening.
Mexican Caribe Bar & Grill is on the corner of First Avenue and 26th Street. This is the meeting point for the lesbian event 'LesMex' and inclusive event 'Los Viernes LGBT' (LGBT Fridays) It offers different musical styles every week.
Wabi Bar is described as the new Dolores, the underground electronic music bar that shut its doors in January. Located on the rooftop of Wabi Hostel (Tenth Avenue between Sixth and Eighth Street), they are open from Tuesday to Sunday.
Don Mezcal is another underground music bar which has been there for quite some time now and has not followed the wave of bars shutting down in the area. You can enjoy a great variety of mezcals and cocktails. They are open every day of the week and ladies' night is on Thursdays from 11 p.m. to 1 a.m. Located on Tenth Street between Fifth and Tenth Avenue.
A place that is visited quite a lot by our lesbian community is the famous strip club Tapanko on 40th Avenue and Fourth Street Bis. The club is clean, the ladies working are good-looking and there is always a positive vibe going on. It is more than a regular strip club; they have performance and contests making everyone go crazy! Overall, it is an affordable place to go with all of your friends.
Reina Roja Hotel has collaborated with Playa Pride for various events such as the Ecos Queer Film Festival, and three pool parties during Pride, as well as a pool party last
Sunday, July 30. I'm looking forward to spending another beautiful warm afternoon in their pool soon on 20th Street between Fifth and Tenth Avenue.