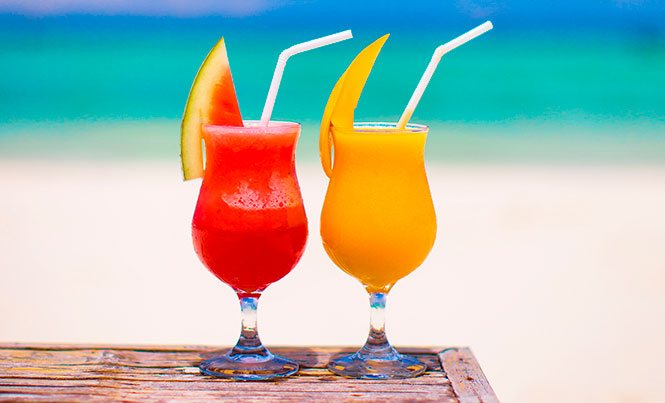 Looking for a refreshing cocktail to beat this heat? Many restaurants in town advertise 2×1 margaritas, but many of them are loaded with sugar and low-quality alcohol. If you are looking for something special to imbibe, we did some research in the centro and this is what we found:  quality thirst-quenching original cocktails for your sipping pleasure. These craft bartenders take care to create each drink from all natural ingredients.
Piola

: They have two locations, one in centro at Calle 38 and First Avenue and another at Avenue 115. Their fabulous cosmopolitan martini is crisp, with the perfect balance of sweet and the tartness of freshly squeezed lime. You can also cool down with another of Piola's famous cocktails; a frozen basil martini that is light and refreshing. This green slush is sure to make you return for another.

La Perla Pixan Cuisine & Mezcal Store

at Calle 34, just up from Fifth Avenue. Are you feeling adventurous? Then try their Mezcalita, it is their original version of a margarita, made with handcrafted mezcal. It has a slightly smokey flavor, with freshly squeezed orange juice and lime. One of their best-selling cocktails is the Xochipilli, named after the essence of the goddess of flowers. It comes with fresh jamaica water, peppermint, and mezcal.
How about a chocolate cinnamon mezcal martini, made from natural cocoa, for dessert? There are no artificial flavorings here.
Patio 8

is located on the corner of Calle 8 and Fifth Ave. The main focus of this establishment is top-shelf gins. They also offer a choice of crafted cocktails made with other top-shelf spirits. One of the best sellers is called Passion Wine, made with Absolut vodka, real passion fruit, pineapple, basil and prosecco wine – delicious! All of the ingredients are natural; they manually juice grapefruits, oranges, and limes. On a hot, humid day, you may want to try a Cucumber Ricky: Absolut vodka, fresh cucumber, cranberry, tonic and freshly squeezed lime juice.
The rum drinker may enjoy a Limonada Patio 8: Captain Morgan white rum, Malibu liqueur, sparkling water and fresh lime juice. For tequila enthusiasts, try El Diablo: Tequila Blanco 1800, cassis, muddled berries, cranberry and fresh lime juice.
Salud!