Río Secreto: Escape the Heat by Going Underground
Exploring the underground rivers of these subterranean caves is a great way to stay cool and explore the beauty of the Yucatan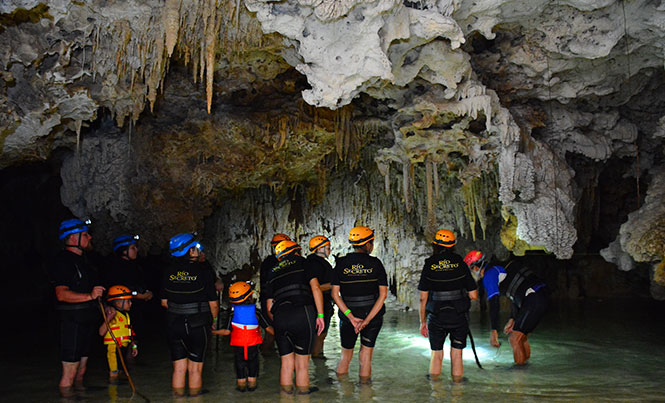 During the hot summer months of the Riviera Maya, I usually seek refuge in the shade or inside of an air conditioned cafe. But all of this pales in comparison to the best method of escaping the hot sun: going beneath the surface and into the underground waters of the Yucatan. I learned this first-hand when I was recently invited to Río Secreto, and took the journey into the elaborate cave system.
Only a 15-minute drive from Playa del Carmen, it is conveniently located, and easily accessible by collectivo. The entrance is just off the highway, and upon arrival, we received our arm bands and watched a brief introductory video in English and Spanish. The video explained what we were about to experience. We were also told jewelry, sunscreen, and cameras are not allowed, and no touching anything inside.
Our guide's name was Victor, an experienced eight-year veteran of Río Secreto. He would be leading our group, which ranged from kids to a 70-year-old woman, through a route called Palacios, lasting approximately 90 minutes. It is one of many tours that can be taken; lengthier tours can be purchased at a higher added cost. We all boarded the waiting vehicles and did the seven-kilometer drive into the jungle where the cave system entrance was located.
Upon arrival, everyone stripped down to their swim suits, showered, and lined up to receive their wetsuit, helmet, and shoes. We had the option of taking a cane with us, which would help us navigate the uneven rocky terrain. It would prove to be a good decision. Victor organized us into a single file and instructed us that he would be passing back messages regarding the upcoming terrain.
Our descent into the underworld began down slippery, sloping rocks until it leveled out and we submerged ourselves into the cool waters inside. Thanks to the summer heat, it felt really refreshing, and we all got accustomed to it quickly. The cane came in handy, as there were many points on the ground were uneven, with sharp rocks and sudden drops in elevation.
We were then treated to an array of incredible sights. The stalagmites and stalactites reached across to one another from the floor and ceiling, fusing together in some areas. Despite looking quite solid, they are fragile and likely to shatter easily if you grab them. Everyone took turns leading from the front, and the journey took us through various caverns, in some cases requiring us to swim a short distance. With our lifejackets, it was very easy, even for those in our group that could not swim well.
The most striking event occurred when we entered one particular space towards the end of the journey. Victor stopped us and told us that we would be having a minute of silence. We were asked to turn off our helmet lights and stood quietly in the pitch dark. It was very quiet, with the smallest sounds being magnified.
We came out into the daylight through one of the fourteen possible exit points, returning to where we began. After turning in our gear, we headed off to eat the meal that awaited us in their dining area. It was much appreciated as many of us had worked up quite an appetite.
For more information on how to book a tour of Río Secreto or how book a tour, visit their website: