The Har Har Har State of Flux Band
As the band got ready for their anniversary celebration & CD release at the Galeón Pirata Espacio Cultural in Bacalar, Teena sat down with with Carlos Medina Mendoza.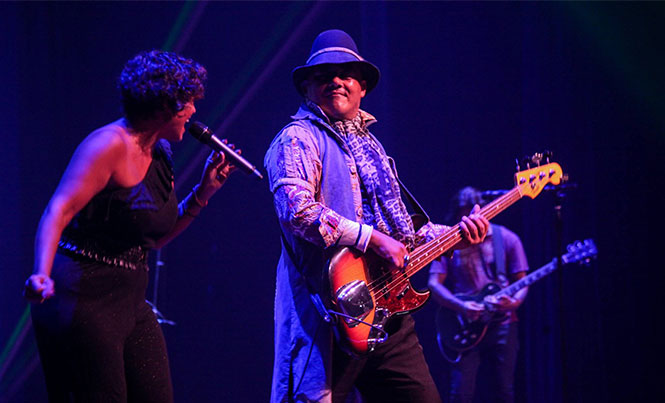 Carlos Medina Mendoza, director of the Har Har Har State of Flux band, has once again returned to the music scene, resurrecting the band after the loss of its singer Ynez Tulsen last year.
"Ynez was a great performer and singer," said Carlos. "It was hard on me when she left the band, she was my right hand, she gave her all at every show, and I miss having her. But she left on a personal agenda that included her moving back to England. We are still good friends. She is like a sister to me."
The Har Har Har State of Flux band, formed in 2012, was back on stage just a few weeks ago at a Bluesfest event held at Hard Rock in Cancun and Zenzi in Playa del Carmen, with special guest vocalist Jimena Segovia. Their new CD, recorded live at the Bluesfest, will be released on August 26 at their fifth anniversary celebration to be held at the Galeón Pirata Espacio Cultural in Bacalar. The CD, called The Har Har Har State of Flux Plays the Blues for Peace, contains songs from Willie Dixon, Muddy Waters, BB King, and Etta James to name a few. It is being produced by Angel 'Mollo' Tejeda from the Mudd Club México (Zappa Fan Club).
"We play old school blues, and we are starting to add some original stuff. As you know, Playa is not the best environment for original music, no matter what genre you play. But we will be introducing our originals in a special kind of show, highly influenced by Frank Zappa's music with the theatrical antics of Jethro Tull."
Carlos hails from Mexico City and has made Playa del Carmen his home now for 30 years. His father was a renowned saxophonist Ruy Medina. Ruy was the leader of the popular Mexican band, Los Aragon in the 60s and 70s. Carlos grew up with music in his veins. His major influences were the Rolling Stones, Jethro Tull, and Frank Zappa. He has toured parts of the U.S., Mexico, and Europe. He has also shared the stage with Chicago blues singer, Jenny Lynn, Spanish flamenco rock singer, Mar Castro, Canned Heat, ex-Grateful Dead keyboard player, Vince Welnick, and violinist and singer, Kristina Kopriva from Big Brother and the Holding Company (the Janis Joplin band).
Carlos plays bass and slide mandolins, as well as being the director of the Har Har Har State of Flux band.
"Currently, the Har Har Har State of Flux is me with the best musicians available," Carlos laughed. "That is why we are in the state of flux! Our special guest singer at the moment is Jimena Segovia. The other musicians include Johnny Baker (guitar), Charlie Hauptvogel (drums), Juan Carlos Alfaro Monroy (tenor sax), Pedro Encinas Flores (alto sax), Antonio Alvarez Holly (baritone sax), and sound engineer Victor Meneses from Viña del Mar Chile."
Jimena, one of the most talented female vocalists in the Riviera Maya, has a unique and vibrant sound. Check out the last issue of the Playa Times for a full story on Jimena and her other band projects.
The Har Har Har State of Flux will be performing in Bacalar on August 26 at 10 p.m. at The Pirate Galeón – Centro Cultural Independiente. The venue is a unique space that was created for artistic expression and cultural convergence. The Pirate Galeón is located at Calle 1 and Calle 32. Entrance to the venue is free, with consciousness volunteer cooperation, otherwise known as a donation.
For more information on the Har Har Har State of Flux band and where to buy their CD, contact Carlos at www.facebook.com/harharharplaya
Teena Clipston has spent more than fifteen years immersed in the Canadian music scene, making headlines in Concert Promotion, Event Production, and Artist Management. She now makes her home in Playa del Carmen and is the owner and operator of PDCMUSIC.