Our Environment
Days of Whale Shark Tour Guide
For many visitors to the Riviera Maya, swimming with whale sharks is the highlight of their trip. For David Rodríguez Pandilla, it was his daily routine.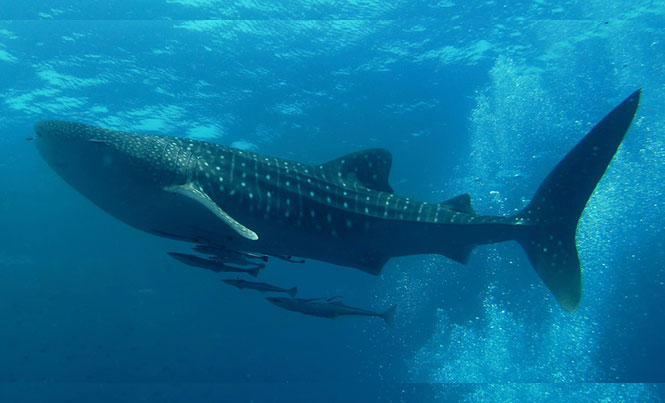 I first met David Rodríguez Pandilla two years ago, back when his job as a tour guide involved taking clients out to sea to swim with whale sharks. In this conversation with David, I asked him to share some of his experiences from 2015.
The Playa Times: David, walk me through a normal day for you as a whale shark guide.
David: Oh well, on a typical day, I would wake up at 4:00 am to meet the driver and pick up the passengers at their resorts. After two hours of this we would arrive at the docks in front of Isla Mujeres and then go navigating for one hour to find whale sharks. I would explain the process and nature of the whale sharks to the clients, and then we would start jumping off the boat and swimming with them. Afterwards, we'd stop at Isla Mujeres to relax for a while and grab a bite of ceviche before heading back to the docks in Cancún. Then we would do the drop offs, say goodbye and thank everyone for being such an important part of my day.
One time I was rammed by a whale shark.  I ended up rolling all over the animal!"

David Rodríguez Pandilla, former whale shark tour guide
What is the most amazing thing you ever saw?
I often would get really amazed by the whale sharks. On some days you would also see  a lot of manta rays. One day I saw 20 manta rays in the water and 20 whale sharks in the surrounding area. I got so involved with the wildlife that I almost forgot about my 10 tourists getting seasick on the boat!
Tell me about one of the funniest things that happened on a tour.
One time I was rammed by a whale shark.  I ended up rolling all over the animal!
Any tips for people?
My advice is do your best to prevent seasickness. Many people who do the whale shark encounter end up not enjoying their experience as much as they should. Also, trust your tour guide, follow the rules, and don't try to touch the animal. Don't hesitate when jumping off the boat, just go for it! And enjoy the whole process of going out into the wild to meet the whale sharks.