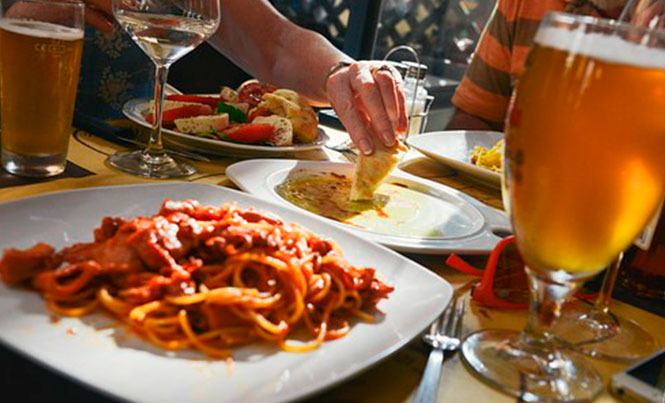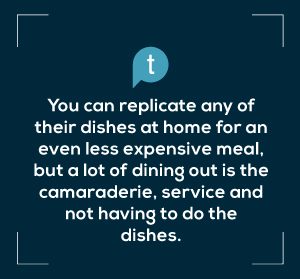 Sometimes it is whom you know and other times it is what you discover. Playa del Carmen has grown in leaps and bounds that not a week goes by without neighbors or friends suggesting a new restaurant.
We have our favorites that have weathered the storm, are still reasonably priced, have dedicated owners and great food. Then there are the new finds that we hope will stay on our radar for years to come. We could fill this paper alone with the latest faces that have popped up, but have to limit ourselves to a handful. If you know of any others- I am sure we all do- don't hesitate to tell us. Value for your peso is what we are after here.
You can replicate any of their dishes at home for an even less expensive meal, but a lot of dining out is the camaraderie, service and not having to do the dishes.
Pillars of the Community
Manne's Biergarten – Manne and Susie dish up a fantastic prime rib on Sunday, roast pork Thursday and great German food every day – Calle 4/Ave 10 & 15
La Brocherie-Cordon Bleu, roasted, piccata, popcorn – it is all about the chicken here – Ave 15/ Calle 4 & 6
Madrez Café – Have breakfast, brunch or burgers and you will always go away satisfied – Calle 8/ Playa & Ave 5
Kaxapa – From cachapas to arepas and patacon, a bit of Venezuela in Playa's heart – Calle 10 Nte/ SN Local 7
Falafel Nessya – Crispy falafel, smooth hummus and pickled onion make for the perfect trio – Calle 4 Nte/Ave 10 & 15
Cantina Don PP – When the owner is on the premises, has a sense of humor, and serves up great Mexican pork shank, you keep coming back – Carretera Federal/Calle 14 & 14 Bis
Newbies in Town
Roma Pasta – Reasonable prices, fresh pasta, small venue – the perfect combination – Avenida CTM/ Ave 5 & 10
Makito Fusion – Mesh Thai and Japanese cuisine with a twist and this restaurant is the result – Puerto Aventuras overlooking the Dolphin Discovery
Il Cartoccio – Paper cones aren't only for fries, have one filled with fried calamari or clams – Calle 6/Ave 10 & 15
Cabritos Family – Love your tacos al pastor? Try them with cabrito (baby goat) and you will never go back – Ave Constituyentes/Ave 25 Norte
Amorino – Red berries cheesecake gelato, and dozens of other natural flavors, served in a cone like a blooming flower. Need I say more? Quinta Avenida/Calle 28