Community
Organizations
Featured
Teeny Turtles: Releasing the Next Generation
The Turtle Protection Project at Xpu-Ha La Playa is releasing hundreds of baby turtles every week as part of their non-profit conservation project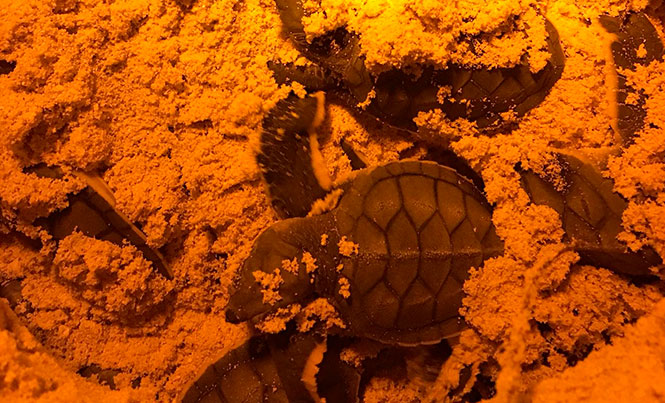 It's hard not to be fascinated and affected by the beauty, power and vulnerability of nature when living on the Riviera Maya. We have dense, often impenetrable jungle on one side, and the inviting crystal-clear waters of the Caribbean on the other. We live in anxious anticipation of hurricanes for half the year and swelter in the heat of tropical sun for the rest. We both avoid and encounter exotic new creatures – scorpions, iguanas, coatis and whale sharks. We are privileged to live in this rich natural landscape which needs to be protected and respected by us so we can continue to enjoy it.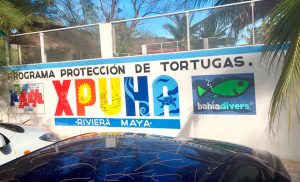 The programa proteccion de tortugas (turtle protection project) at Xpu-Ha La Playa is a project which is currently performing humbling work, enabling our continued enjoyment of the local ecosystem. I recently had an experience with them that will stay with me forever, and you too can experience the same thing until early November.
Last Wednesday night, I excitedly joined Luis Gomez Jiménez and a few other volunteers to help liberate a couple hundred turtle hatchlings from their nests and safely transport them to the water's edge, from where they eagerly waddled into their new home – the Caribbean Sea. Will they all survive? It's doubtful. Their natural habitat is a dangerous place. However, one thing's for sure: without the dedication of this non-profit, few of those hatchlings would even have survived that long.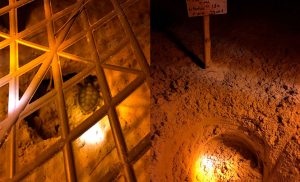 Sea turtles are a natural wonder. They have been around since the dinosaur age, yet tragically, today they are at risk of extinction. Climate change, pollution, human activity and nature's own predators are a constant threat to their survival. In the month of May, these majestic, peaceful creatures begin coming ashore at night to lay their eggs on our beaches. The eggs are buried and the mother retreats to the sea. It takes approximately 55 days for the eggs to hatch if they haven't been stood on, snatched up by other wildlife, or stolen by humans for sale and even consumption. The chances that the offspring ever reach the waters are slim.
From May to September, Luis single-handedly patrols the beach every night, locating the recently laid nests and transporting them a few meters back on the same beach, where he carefully buries them once more in a protected, monitored area. He notes the date, type of turtle and the number of eggs, and then the seven-week wait begins.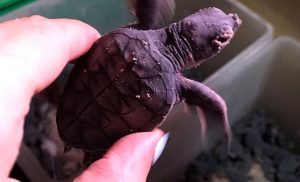 Last Wednesday, we released babies from three nests, helping to remove the sand, and oohing and ahhing as we witnessed dozens of little heads pop up and flippers scramble for their new-found freedom. One nest contained 127 eggs. To raise their chances of survival, the turtles are released at night, aided by red lights. Day-time release would leave them at more risk of predators catching them. The releases will continue until around November 7; so, if you too would like to experience this special event, get in touch to organize a visit.
The team recently released a short video on their work to mark the success of the first year of the project:  https://youtu.be/Wsd1zxy5eSo. The project continues thanks to the dedication of the Bahia Divers Conservation Team: Luis Gomez Jiménez, Mindi Hill, and Marcos Fernandez Hernandez, who, through their diving center, sustain the project, along with the Mezo family of Xpu-Ha La Playa and La Playa Restaurant and Bar. Although the project does not receive government financial support, it was recently recognized by the Mexican government as an official conservation project. This is only the beginning for this small yet significant non-profit. If you would like to participate in a release before November 7, visit the farm or support the project in any other way, including volunteering with them during the nesting and hatching period, get in touch via bahiadivers.com or Facebook/@BahiaDiversDiveCenter and become part of the family. It's a very happy family.