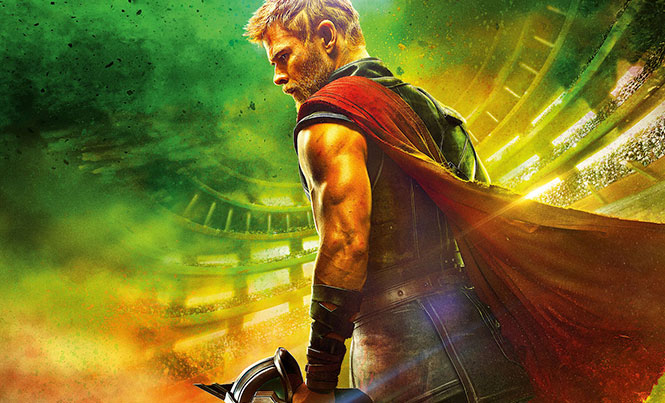 Thor: Ragnarok is the third film in the Thor franchise, which stars Aussie Chris Hemsworth in the lead role. In my last review (Rush) he played a charismatic British racing driver. This time he portrays a charismatic Norse god. Director Taika Waititi comes at this film from a more comedic angle than the previous two. It is a bold move that pays off and a huge improvement on Thor Dark World, the second instalment. The director also plays the likeable Korg which he states is based on a typical Polynesian bouncer – large and heavy, but funny and friendly.
In the acting department all of the lead actors such as Tom Hiddleston (Loki), Mark Ruffalo (Hulk) and Tessa Thompson (Valkyrie) put in decent turns. The best performances for me come from Hemsworth, Karl Urban (Skurge) and Cate Blanchett as Hela the Goddess of Death. The antipodean actress manages to portray Hela, Thor's sister, as both menacing and sexy.
The storyline finds Thor on an alien planet, forced into a gladiatorial battle against his old friend Hulk. He needs to win this conflict to get back and defend his home planet of Asgard from his evil older sibling and the threat from Ragnarok. To do this he has to try and team up with others, but is his adopted brother Loki trustworthy?
As well as strong acting and directing, we are treated to some excellent special effects. Keep your eyes open in the play scene for cameos from Matt Damon, Sam Neill and Hemsworth's older brother Luke. Of course, Stan Lee shows up at some point in the film. As is usual with Marvel films you need to watch the incredibly lengthy credits to get to the hidden post-credit scene. This time you need to watch all the way to the end for a second one. In my last review, Chris Hemsworth was unlucky to miss out on star of the show, but this time I cannot deny him that honour. Thor: Ragnarok is a fun way to spend two hours. I would give this film a steady seven, but I think if you are a comic book fan you may well change that to a mighty nine.