Entertainment
A Lifetime of Music
We were introduced to Renato Lopez in an interview published a few editions ago; now we delve deeper into the outstanding career of this local musician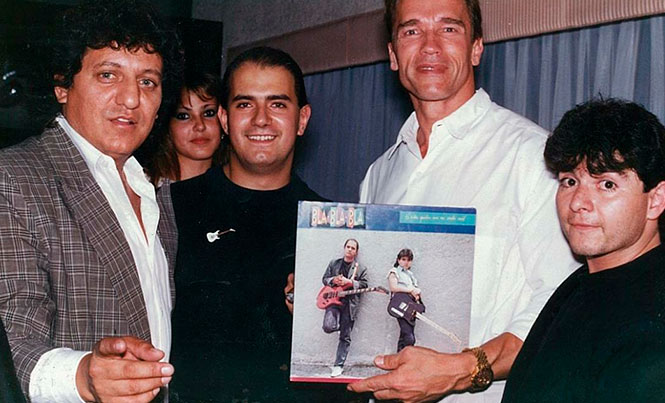 A few editions ago we met Renato Lopez, international musician, music industry giant, and co-founder of Wah Wah Beach Bar in Playa del Carmen. Over the next two editions we will delve deeper into his musical career as recounted by him in interview with me.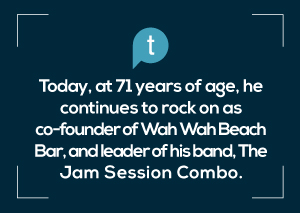 Renato has sold millions of hit records throughout his musical career. He was the Artistic Director and producer for CBS, Columbia Records, RCA VICTOR, and Vice President of Walt Disney Records – Disney Music Publishing for Latin America. He was inducted into the Mexican Encyclopedia of Rock for his exceptional musical career. Today, at 71 years of age, he continues to rock on as co-founder of Wah Wah Beach Bar, and leader of his band, The Jam Session Combo.
His musical path began early in his childhood and was greatly influenced by family members. His grandmother was the first Mexican to sing the opera of Puccini's Giaconda, at la Scala de Milan, Italy. His musician grandfather was the Dean of Music, at the National Conservatory of Mexico. The pair gave birth to Renato's father, who became an accomplished singer and was awarded the title of Tenor of Mexico City.
"In those days, in Mexico City, they had a position like an honorary position, and my father became the tenor of Mexico City. He was touring the world singing; he went to LA, to the MGM studios and sang for Clark Gable, Lana Turner, Jennifer Jones… He was a great singer. Then he lost his voice. And he became a Composer and recorded a lot of songs that were very popular.
My father was retired from singing when I was born. But he would write beautiful poems. And he would teach me how to write music and sing. When I was in private school, I was in the choir. We sang at the shrine of Mexico City in the cathedral. Then at some point I became a rocker.
In the beginning, I didn't play guitar – you know the New Kids on the Block, it was like that. I started learning to play guitar afterward, and suddenly we had a band called The Thunderbirds. And then we had a band called The Hurricanes. And then it was The Sinners; one of the members died, and we decided to rebuild the band. I became the new singer of The Sinners, and RCA Records signed us.
We were writing new songs, originals, and covers in Spanish. They became very popular. It was the rock and roll era. We did a lot of Spanish music, until the Spanish rock market collapsed. Then we returned to English music again.
The Sinners left for the US soon after. And I started playing with a band called The Factory, for about a year, then joined the Tequila band.
"I am going to tell you how it was: Richie Triujeque who plays with me at Wah Wah – he is still my guitarist – was the leader of Tequila in those days. He came to me and he said, 'Hey I have a problem, I have a contract to go to Europe, but four of the guys in the band can't go, for whatever reasons, so why don't you join the band, if you want to go to Europe with us.'  Where? To Sweden. At the time I had a wife that was Swedish. And she was pregnant. And she was also in Sweden. You can't think of better timing than that. And, of course, I said I am in. We had to make some new recordings, new pictures to send to the management, and they approved. So here we go. May 20, of 1970, we took off for Sweden.
The company was called Flamingo Music, and the agent was Roland Fernerbörg. Flamingo Music managed the Spotniks, Sunny Girls, Satanic Girls, The Gimmicks, The Moon Lighters, and the Tequila Brass which was our band. They also had solo artists, one was Agnetha Faltskog, Frida Lyngstad and then there were two guys, Björn Ulvaeus & Benny Andersson, who were at that time a duet. They ended up forming the famous group ABBA. We toured with them when they were single artists across Europe.
After one and a half years in Sweden, our band disbanded, some of the guys had to go back to Mexico, because they had families there. I already had a son and a daughter with my Swedish wife. So I talked to the management again in Sweden; they said bring whoever you want, or we can get new musicians here and form the Tequila band again. So, here I go with a new contract. Started rehearsing, brought some of the guys from Mexico and some Swedish guys. We had a British guy on the keyboards, and we created a second generation of Tequila. We stayed there seven and half years, traveling Europe like crazy. We recorded an album together, and I recorded as a solo singer."
Renato then returned to Mexico and continued his career as a musician and producer. Years later he became CBS Artistic Director, Head of the Artistic Department at RCA VICTOR, and Vice President of Walt Disney Records and Disney Music Publishing for Latin America.
Join us in a couple of weeks to hear about that part of his career and what brought him to Playa del Carmen where he still resides today.