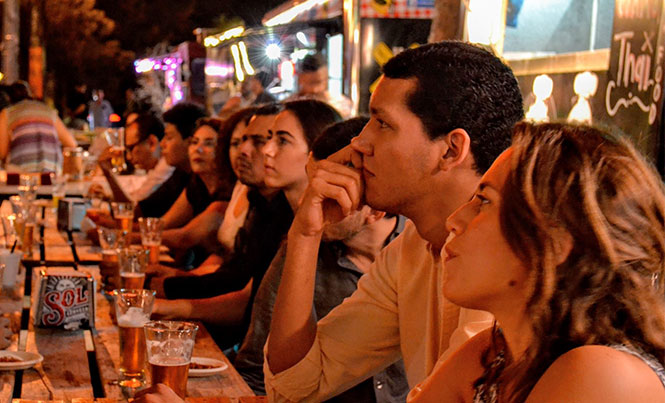 When I was a teenager living in Cozumel (oh god, that was a long time ago) we used to refer to Cancun as Canculifornia. Now there's another delicious reason to call it that: food trucks. Over the past three years food trucks have started to proliferate in our city; some have remained, some have disappeared and some have taken the urban cuisine game to the next level, creating an entire park.
Food Truck Park Cancun / Nichupte Ave.: This community space started it all back in 2015. Almost all food trucks in Cancun stopped at least once in the Park. They are about to renovate the place to start the year; new trucks are signing up along the household names Ahumado (those ribs!) and Backyard and Corleone (this was the first food truck I ever tried when the Park was located near the ADO station, and they only got better since).
It's open every day after 7 pm; sometimes they have special events and it's the perfect place to watch a game with your friends. I watched Game of Thrones' final season there (beer-handed, of course). When Little Finger was killed, we all stood and cheered like a big family, it was beautiful.
If you are interred in being part of FTPC, contact them: (52) 998 241 6438
El Deck Food Truck Bar / Rodrigo Gomez Ave.: A fresh take on the concept, El Deck always has great music (Thursday to Saturday you can get to know most of Cancun's scene) to go along with  their fantastic bar (they focus on mixology and it is one of the few places where you can get La Ceiba craft beer) and food trucks. They are also starting the year with new trucks: La Patrona (true Mexican tacos, mi gente) and keeping classic trucks such as that of their famous falafels.
Amma Food Park Experience / Huayacan Ave.: The latest food park in town is prepared to take over. It's the biggest one and they have a diverse menu: regional cuisine, vegan burgers, fish tacos, sushi, wings, every single thing; perfect when you are hungry but not sure what to get. I haven't tried every truck, but it's on my list.