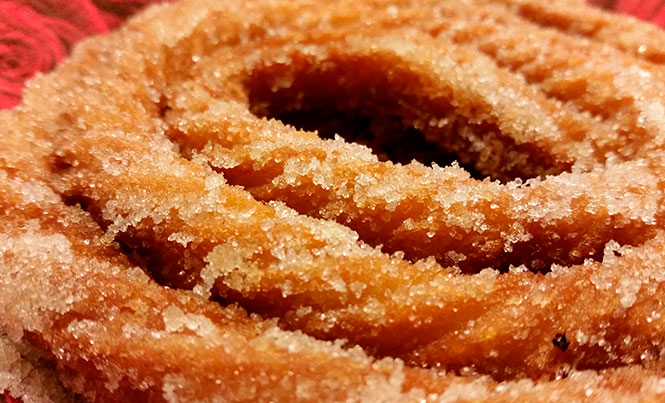 Believe it or not, Playa del Carmen, Tulum and surrounding areas can be pretty cold in winter. Well, at least for us, 10°C is cold enough to get sweaters, coats, hats and gloves on. My favorite remedy for these cold days is hot chocolate with churros. Super easy to do. Check out the recipe.
Ingredients
2 ½ cups all-purpose flour
½ liter very hot water
15g unsalted butter
¼ teaspoon salt
1 spoon ground cinnamon
½ cup sugar
1 teaspoon vanilla essence (optional)
1 small piece of cinnamon stick (optional)
Method
In a pot, add the water, cinnamon stick, butter and salt and bring it to a boil. Meanwhile, mix the grounded cinnamon with sugar in a large bowl and set aside. Once the water is boiled, remove the cinnamon stick and add the vanilla, mix well. Add the water to the flour and stir very well with a wooden spoon (it is a very heavy dough, so use a strong spoon, otherwise it could break). Cover the dough and let it rest.
Now heat the oil; once it has reached a deep-fry temperature, turn down the heat to medium. Put the dough in a pastry bag and make sure there are no air bubbles in it. Start pressing the churros out directly over the hot oil. Once they have a length of about 15 cms, cut with a knife or scissors. Fry until they reach a golden color, and take them out of the oil directly into the bowl with cinnamon and sugar and cover with this delicious mix.
Now just prepare a delicious hot chocolate and voilá! Enjoy!
If you have any question about this or other Mexican recipes, don´t hesitate to contact me at riverakitchentulum@gmail.com, my dear readers!
Lily Espinosa Rivera
Rivera´s Kitchen Tulum, Mexican Cooking Classes & Culinary Tours
"The passion of Mexico in your kitchen…"