Foodies
Playa del Carmen's Artisanal Food Producers
On every street in Playa, you'll find some kind of artisanal edible treat - fresh, original and made with love; here's just a few of them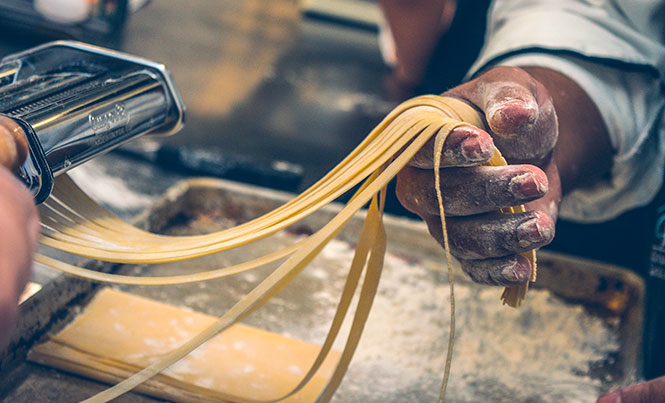 Pungent cheeses, steaming tortillas, fragrant breads, tasty pasta, unbelievable frozen treats are what I associate with artisanal. Are these authentic, handcrafted wonders only linked to days gone by, or is there a rekindling of this tradition?
Hands are once again being innovative and none more than in the Riviera Maya, where artisans have their creativity ingrained in their DNA. Nowadays, we have handmade foods all within walking distance. Check out this short list and don't hesitate to add to it as we salute the artisanal community and their efforts to bring us edible goodness. Stop by and support these true craftspeople.
A blink of the eye and you will have passed Primer Plato (15 Ave/Benito Juarez). Make a U-turn. No oversized machine cranking out the pasta, Chef Diego's elbow grease does the work. Squid ink, tomato or spinach-infused pasta, ravioli filled with squash or shrimp, and at a price that will leave money over for that decadent tiramisu.
Although the cheeses at Caseus Epicerie Fine (25 Ave N/Calle 32) aren't all made on the premises, their cheesemaker is in Mexico and follows traditional recipes for camembert, manchego, emmental and cheddar, rounding it off with homemade pate.
Dash over to Das Brot (20 Ave/Calle 8) and grab a loaf of dark German bread, with its crispy crust and soft-centered sponginess, or wait for the hot and tasty cinnamon knots, Anja's unbelievable version of my grandmother's schnecken.
We have dozens of ice cream and gelato stores within a 20-block area in Playa, from fancy, over-the-top and Pinterest-worthy creations, to the basics. I like Artik Pop's simply delicious ice-cream pop stands. Like fingerprints, no two are alike. Not machine-stamped but handcrafted, try the kiwi, mango or apple fruit pops at Ave 25/Calle 30.
Homemade tortillas and dozens of amazing tacos de guisado can be found at a hole-in-the-wall Taqueria El Arbolito Rte 307/Puerto Aventuras.
Adding to the variety of Club de la Cerveza on La Quinta, now we have a true brewery in Carmen Beer Company in Xaman Ha Plaza (Route 307). Let them take you on a beer-blessed journey from IPA, via Bourbon-based to a ginger-mint version.