Community
Organizations
Featured
People of Playa: Joe Biner – Disability or Possibility?
Dividing his time between the US and Mexico for 25 years, Joe brings awareness and a positive message to Playa about disability issues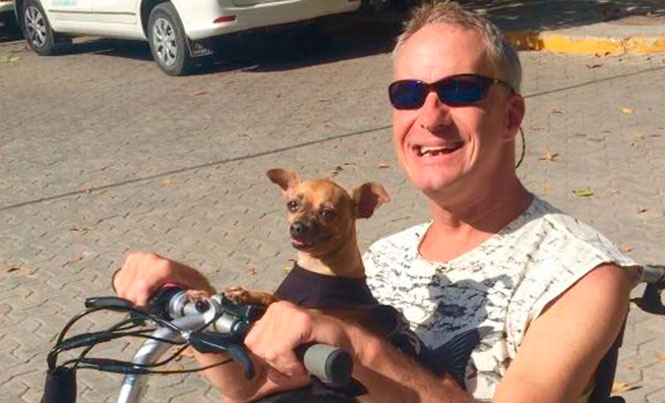 When I first came to Playa a few years ago, I often saw a man in a wheelchair pushing himself backwards, with his feet, along one of the main avenues. Every time I saw him a few thoughts crossed my mind. The first was always one of admiration for the patience, effort and determination that it must have taken for him to reach his destination. Then I thought how dangerous it was for him on the road, although I understood that the sidewalks weren't a feasible alternative for him. Playa traffic was quieter back then, but to their credit, road users seemed both aware and respectful of him. Probably they were as humbled as I was every time they saw him, and their worry of getting somewhere in a rush dissipated. I thought about who this man could be and what his story was. Then I stopped seeing him and I wondered where he had gone.
Years later, I met him under different circumstances and put two and two together. His name is Joe Biner and he hasn't gone anywhere. He has, however, got a new motorized wheelchair that allows him to travel quite quickly through the streets of Playa, apparently evading my attention!
Originally from Los Angeles, Joe was born with cerebral palsy, a permanent movement disorder, which limits activity and can cause sensory problems. I contacted Joe to speak about his experience as a wheelchair user in Playa and learned that despite his condition, his life has never been limited.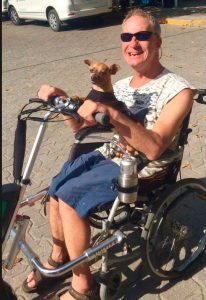 Joe graduated from college with a degree in outdoor recreation management. Over the years he has worked for, run and advised businesses and programmes enabling trips for disabled children on the rivers of Colorado, Montana and the Grand Canyon. His first-hand experience of disability, combined with running a fly-fishing business in Montana for 25 years, made him an ideal candidate for such roles.
It was his fly-fishing passion that brought him to Punta Allen and Playa del Carmen in 1995. Soon after, he decided to divide his time between Playa and Montana and he has been doing it ever since.
While Playa's accessibility for the disabled is improving, there is still a long way to go. Some sidewalks now have ramps, but they are useless because the sidewalks themselves are in such bad shape – or local establishments are blocking them with seating and signage.
I want a good life, not to sit and be angry all the time. I want to make things better."

Joe Biner on sharing his experiences
Joe commends the attitude and energy of employees here who, in the absence of proper facilities, willingly lift him and his wheelchair up steps and into their spaces. Other establishments such as La Tarraya and Playa del Carmen Hotel have installed disabled facilities. He mentioned positive experiences in Zenzi, Siblings, Club Lido and Sushi Club, who all work to accommodate him. A positive attitude on both sides is important – he finds one gets further by being polite and cooperative rather than angry and demanding.
Now Joe wants to make a positive contribution to his second home. With his lifetime of experience, he wants to help make Playa del Carmen more accessible for the disabled.
He and his good friend, Mindi Hill of Bahia Divers, are launching a project called Liquid Love – Where Disabilities Become Possibilities. They have two aims – to give children with disabilities access to the water and use of special masks at Xpu Ha beach, and to create a mobile ramp initiative so that local businesses can give access to the differently abled. The idea is to build wooden ramps, painted with colorful art, of various heights, that establishments can easily install, remove, and store as necessary.
If you would like to get involved with these initiatives, Joe and Mindi would be delighted to hear from you. From volunteers to help carry and move wheelchair users on the beach (guided by Joe), to artists, and carpenters, and of course donors, all help is gratefully accepted.
Hopefully increased awareness through initiatives like this, and more community involvement, will help Playa del Carmen to become an example of sensibility and positive action promoting accessibility for all.
To learn more, contact Mindi Hill: mexicomindi@gmail.com