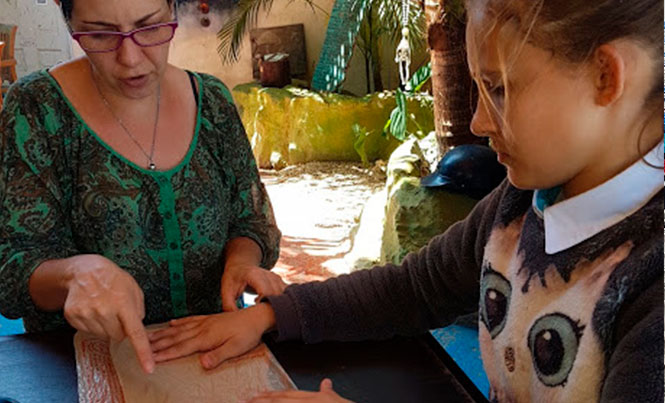 I am a mom but I am not a Martha Stewart mom. When I had to help my daughter with a project for a contest at school to make a dress out of recycled products, I panicked. Then Ana came to the rescue, and her project enlightened a part of my life that always confused me: what to do with all of my recycling. I think you will be as moved as I was to learn of her project.
Playa Times: Where are you from originally and how did you find yourself in the Riviera Maya? How long have you been here?
Ana: I am originally from near Barcelona (Spain) and I arrived in Riviera Maya almost 6 years ago.
How was your project Cuantas Cosas born? What inspired you to do this?
While my husband started working on different projects for which we came to the Riviera Maya, I was bored at home after a year and a half. I did not want to spend more time just dedicating myself to being a woman with housework, and I wanted to start my own business and generate my own income. I did not want to start something having to invest a lot of money because the beginning for us was complicated and I did not have anything to invest. Since I had many plastic grocery bags accumulated in my house, I searched the internet to see what I could do with all those bags and found that I could weave them.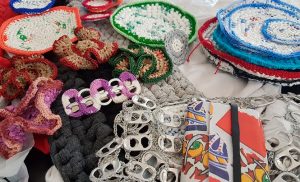 What is your objective with your recycling project?
I understood how important it is to make use of trash. When I saw that in this part of touristic Mexico there was no garbage separation in 2014, I started to see what I could do with my own waste. I dedicated myself to making garbage something beautiful, nice, with a new use. My goal is that every day people do something similar to what I do: give beauty to disposable objects and materials that are difficult to disintegrate over time and that can serve even if it is different from the use for which it was originally created.
What has been your greatest achievement with your project so far?
Seeing my creations on a catwalk of a local middle school event a few weeks ago; my fabrics were part of a recycled dress and my dedication reached more people through such an event. I was a surprise to know that there are many schools that want to implement awareness of recycling in young people, but my disappointment was that creativity is not yet part of that awareness. My next achievement is to create awareness and awaken in them that inspiration it takes to create a world without so much waste washed up in the streets.
Who would you say your audience is for this passion?
Anyone who has time to nourish their creativity and want a better planet, even the most unexpected person can create something wonderful that serves another function completely different from the previous one: transform.
It's almost Earth Day! How do you feel your project fits that theme?
My high sensitivity makes me feel that we are destroying our place of life and that makes me sad. If we do not do something NOW, it will be impossible to keep us alive on this planet. Each year my project Cuantas Cosas is gaining more life on a day like Earth Day, but I feel that it is not enough. More people should take responsibility and take action to change our lives and that of the planet. I feel that everything I do is in consciousness for a better world, and that makes me feel happy and continue working so that more people understand what I understand, see what I see and do something similar to what I do every day.
What message do you have for our readers?
Give a new use to materials that are used up is to give new life to another useful object and learning how to recycle is something that people can feel comfortable about. It is very rewarding to see that with a bottle of PET plastic you can get a soap dish, that with several plastic bags you can give life to a basket to put small objects in your home weaving a new experience for you. It is not necessary to buy and spend on things for your house. How many things can you do to change this world? I wait for you on Facebook/CuantasCosasbyAna to contribute ideas, answer questions, and teach what I do to more responsible people who want to add that little grain of sand to this real cause.