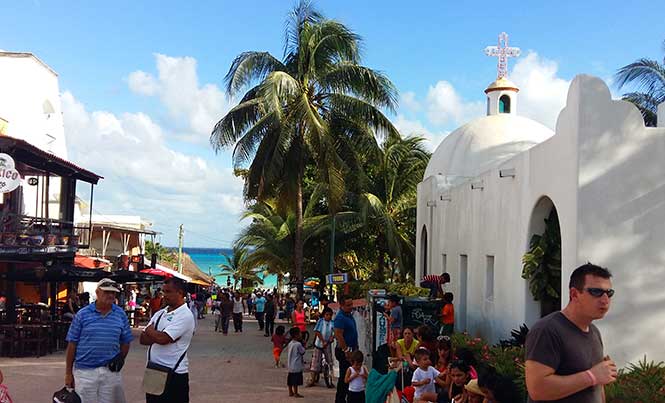 One of the special things that Playa del Carmen and the whole state of Quintana Roo have is multiculturalism. But have you ever wondered how many foreigners live here and where are they from?
Quintana Roo presents a negative Migration Intensity Index, which means that it receives more population than it expels. This is largely because it offers a standard of living above many states of the country and great advantages for people from other countries. For this reason, year after year, an average of 20,000 interstate migrants and 5,000 foreigners are added to the 26,000 average births registered per year, resulting in an annual growth of 4.6%.
According to the latest inter-census survey of INEGI (National Institute of Statistic and Geography), there are 228,186 inhabitants of Playa del Carmen registered. According to the Municipal Council of Solidaridad, 15% of the population is foreign, with Argentines, Americans, Spaniards, Canadians, Venezuelans, Russians, Cubans, French and Asians predominateing.
Municipal capitals, the urban centers that attract internal and external migrants and that concentrate a greater infrastructure of services, employment opportunities and welfare indices, must be strengthened. This includes communications and employment support programs, security systems, education, medical services and access to housing. The localities in question are Cancun, Playa del Carmen, Cozumel and Isla Mujeres, where urban development programs and land use planning are currently under pressure by demand for access to housing.
Another very interesting fact that COESPO provides (State Council of Population http://www.qroo.gob.mx/segob/coespo) through its annual surveys is that incidents of discrimination in Quintana Roo are very low. The majority of the foreign population residing in Quintana Roo have never been a victim of discrimination and they have never felt discriminated against by anyone!
Let us be proud that Playa del Carmen can be an example to the world. It is a cosmopolitan city that exists with tolerance and respect; let's not allow it to change. Let's continue being kind amongst all of us who live here.