Foodies
Chateau Montelena Wine Tasting at Thompson
Thompson's oceanside C-Grill restaurant hosted a restaging of the famous 'Judgement of Paris' competition which saw the Napa Valley winery defeat French competition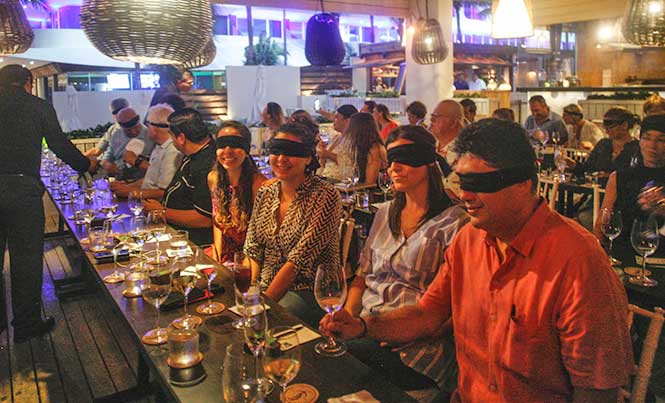 Thompson Beach House's oceanside C-Grill restaurant was the site of a unique wine tasting experience on April 12. Sponsored by Napa Valley winery Chateau Montelena, it was based on the success of the 1976 'Judgement of Paris.' Montelena's Chardonnay defeated French wines in a blind taste-test competition, and it was such a noteworthy outcome that it was even featured in a 2008 film called Bottle Shock.
Participants at the Thompson event, including Chateau Montelena's owner Bo Barrett and his team, were blindfolded and given three different wines to sample – a sauvignon blanc, a chardonnay and cabernet. After each wine was sampled it would be followed by a food item which they had to guess. Answers were jotted down on paper, to be collected afterwards to determine a winner.
Director of Marketing Brian Baker was clearly having a good time and admitted that they "had never done this before." Bo Barrett gave thanks to all who had come out and briefly spoke about the company. "Our intent is to make wine to go with food" he explained, before adding that "wine should age".
Chateau Montelena's winery is located on a 200-acre vineyard, originally purchased by entrepreneur Alfred L. Tubbs, who turned it into the seventh largest winery in the Napa Valley by the end of the 19th century. Barrett's father James came in as a partner in 1968 when the property was resold a second time.
When the wine tasting was over, it was time to head to the bar to try some more wine, along with some tequila tasting and the announcement of the evening's winner. Catherine Lopez had jotted the right answers and the happy winner was presented with a bottle of sauvignon blanc and a bottle of tequila for her efforts.
So what were the mysterious food items that everyone had to guess? 1. pink great fruit, 2. mango and 3. plum.
Special thanks to General Manager Henar Gil and Antonio Meden who hosted and presented this event.
For more information about events at the Thompson Hotel visit them at:
www.thompsonhotel.com and on Facebook: ThompsonPlayaDelCarmen