Foodies
Traditional Beef Steak in Dried Chile Sauce
Try Lily's recipe for this traditional Mexican dish with a European influence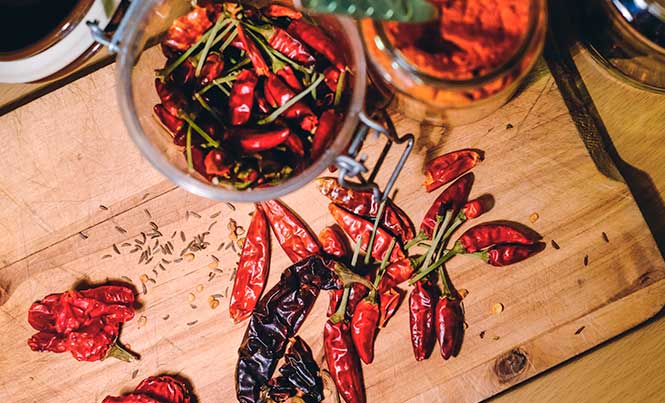 Hola, my dear readers! Mexico's traditional food, as we know it now, is a fusion of Mesoamerican ingredients and culinary techniques, with Spain as the most important outside influence. Other countries such as France and Italy also have had an influence and impact on our national gastronomy. Today I share with you a very traditional main dish: beef steak in a dried chile sauce and veggies. We see the European influence in the use of beef and the Mexican roots in the dried chile sauce. Let's do this!
Ingredients: ½ kilo very thin steaks, 1  large garlic clove, ¼ small onion, 4 medium juicy tomatoes, 2 pasilla chiles, 1 ancho chile, 1 cascabel chile, 1 chipotle chile, 6 black peppercorns (ground), 3 cloves (ground), 1 medium cilantro bunch, pork lard and sea salt to taste
Preparation: Open the dried chiles and remove all seeds, simmer them for five minutes, blend them with the tomatoes, onion and garlic  and reserve.
In a deep pan, with pork lard, seal the steaks and once sealed, add the blended mix. Once it starts boiling, add the veggies, ground cloves and peppers and salt. Let it all softly simmer for 20 minutes. Add the cilantro, check the seasoning and it's ready! If you have freshly made tortillas, you are in heaven!
If you have any question, please send me an email to riverakitchentulum@gmail.com and I will gladly answer your questions. Write you soon, queridas!
Lily Espinosa
Rivera Kitchen Tulum
Mexican Cooking Classes and Culinary Tours