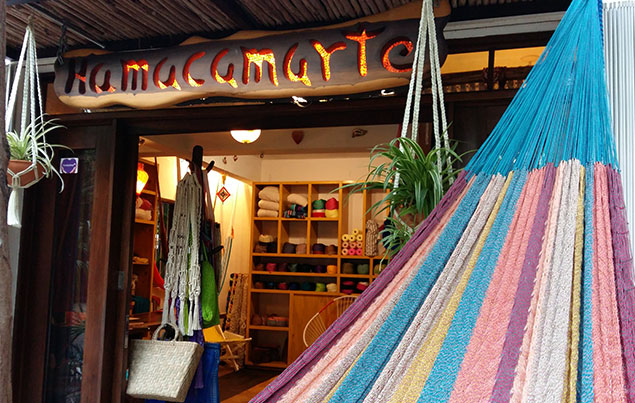 Hamacamarte is a store that wants everyone, both Playenses and tourists, to learn more about the magic art of the hammock. They want you to allow them the opportunity to share with you what the rest of us hammock lovers already know, that you can enjoy a relaxing afternoon or a full night's sleep in a beautifully handcrafted piece of art.
Their goal is to encourage more people to own a hammock and to break the myths that surround it, for example, that it will hurt your back. Nothing could be further from the truth. On a physical level, our body acquires its natural form, like when we were in the womb. That's why it is so relaxing. The position does something in our body that makes us want to stay in the hammock, unwilling to move, embraced by it.
Hamacamarte wants the Yucatan hammock to be recognized and valued, and this is why they respect and work with local people, helping them via fair trade. This also gives them the opportunity to assess the work behind a hammock, which has been crafted over hours by people who put their heart and soul into their work.
Hamacamarte values the handicraft that we are so fortunate to have here in our beautiful Mexico. As a result, they also have space in their store for other local artists with new ideas that involve any manual form of art.
At Hamacamarte, you will find other accessories for your hammock that add to its beauty and comfort. Don't see what you want? Hamacamarte can make custom hammocks according to your taste. They also ship worldwide, can accept orders, and offer wholesale prices. Their goal is to make your home prettier with a variety of craft options.
Visit them on one of the nicest streets in Playa del Carmen.
38 Street between 5th avenue and the beach.
tel + 52 984 873 13 38
Monday to Saturday from 10 a.m. to 8 p.m. Sunday from 10 a.m. to 6 p.m.
hamacamarterivieramaya@gmail.com
Facebook/Hamacamarte Riviera Maya
Instagram/Hamacamarte