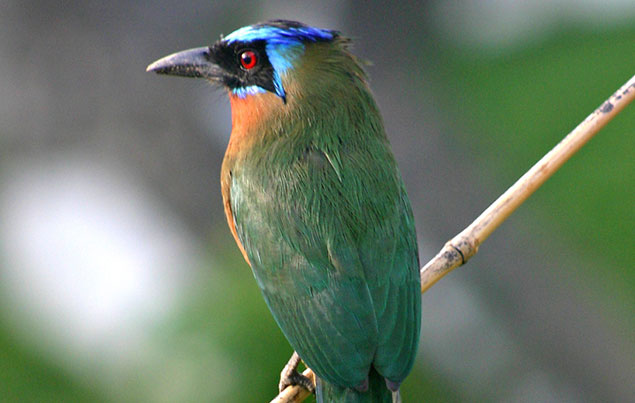 The Yucatan Peninsula is an amazing place for birds. Here are a few places where bird lovers can observe a huge variety of species, including those which are endemic or endangered
Leading you to the hidden cenote, through the jungle, while chattering away, this tour guide's uniform features a moiré of brown to turquoise blue plumage. You will find this little flyer, called the mot mot, at Aviario Xaman Ha, a bird sanctuary and a little slice of heaven, tucked away in the middle of Playacar, featuring over 200 birds and 45 distinctive bird species. This location is the ideal place to study these birds in the wild as they come and go freely, sharing their space with rainbow colored butterflies, camouflaged iguanas and a variety of plant life. www.aviarioxamanha.com.
Another alternative to find our feathered friend is Isla Pájaros (Bird Island), a small island covered in mangrove swamps and cacti, located on the Yalahau lagoon, on Holbox. Here you will find a large variety of birds, and since some of them are endangered species, two observation points and walkways are provided to minimize direct contact with birds. Flamingos, cormorants, herons, frigate birds, pelicans, wild ducks and seagulls among other species that can be observed here in their natural environment. http://en-holbox.com.mx/isla-pajaros/
There are eleven species of birds that are only found in the Yucatan Peninsula, including:
Ocellated Turkey

Yellow-lored or Yucatan Parrot

Yucatan Poorwill

Yucatan Nightjar

Red-vented or Yucatan Woodpecker

Yucatan Flycatcher

Yucatan Jay

Yucatan Wren  

Black Catbird

Rose-throated Tanager

Orange Oriole
(source: www.yucatanwildlife.com)
Surrounding the town of Celestun is the 147,500 acre Parque Natural del Flamenco Mexicano aka the "Celestun Biosphere Reserve" is the winter home to immense flocks of flamingos, in addition to herons and other bird species, including the large white Canadian pelican and the smallish grey Mexican one. It is also a transient home-away-from–home for hundreds of species of birds that fly through during their migratory flights.
Closer to Playa del Carmen and Cancun, you can take a bird watching tour in Puerto Morelos or Punta Laguna, where you might see the collared Aracari, shaking its tail feathers while displaying a bright yellow and orange breast, black helmeted head and tail.
Psstt….for the avid and amateur bird watchers, don't miss Isla Contoy and Isla Blanca, a couple of hidden gems. Although Isla Blanca isn't an actual island, but more like a peninsula, just north of Cancun, they both still carry an air of undiscovered avian treasures.  
Want to see some amazing images check out our neighbor's splendid candid pictures and get snapping.  
http://focusingonwildlife.com/news/wildfocus/members-gallery/name/paamuljack/