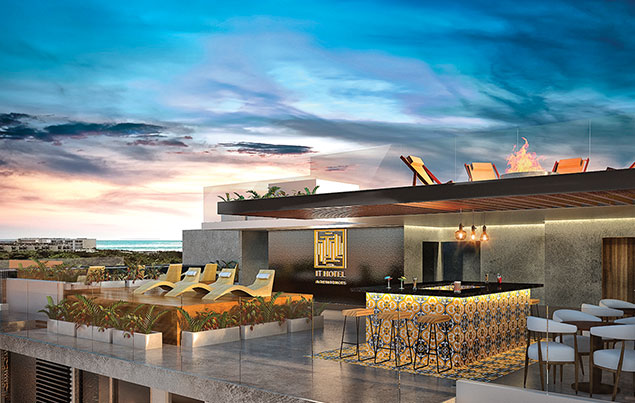 This is one of the latest building projects by GMB real estate developers. This ambitious project will be geared towards a few owners who want a small luxury building with nice amenities
The "IT Hotel & Residences" condo-hotel building is located in the up and coming north end of Playa Del Carmen near the beach. The area between 38th and 46th streets and between 5th Avenue and the beach (known as Coco Beach) has been growing over the past six years. Without a doubt, Playa is moving north, and this area has changed a lot. Just take a look at Google Street View, which shows you this area in 2009, and you will barely recognize it.
This area is mainly residential condos of three or four floors. All buildings in this area are high-end, and rental income is excellent, thanks to its location. People prefer buying and renting here because of the quality rentals, the proximity to the ocean and the fact that it is close to the downtown,  but they can still retreat to their quieter neighborhood.
The area will continue to develop with more upscale condos and eventually cafes, restaurants and food stores. Right now it is mainly residential. Because the area passes CTM Avenue (46th Street), it provides a boundary for development which means that there will be a focus on developing this area more. This is ideal for owners as it means the area will get nicer and, even more, desirable.
In this neighborhood, you are close to 5th Avenue and the restaurant scene. A short walk to 38th Street will bring you to some cute restaurants like La Piola, Sala Rosa, and Cueva Del Chango. This street is also becoming more luxurious with boutique shops. The access to the beach is just a few blocks away, and this end of Playa has quieter beaches away from the crowds.
The "IT Hotel & Residences" is a luxury project with only 32 apartments and 24 hotel rooms, and will include one and two bedroom units. The roof will feature a pool with spectacular ocean views. With fully furnished, and fully equipped kitchens, it is a clean and modern design with accents of marble, including marble floors. It´s concept will be based on a Mexican-Hindu fusion building with balconies. The master bedroom has an open floor plan for a spacious feel. The floor to ceiling windows will allow natural light in and this building has an internal courtyard for light and air flow. Prices are starting at $192,000 USD.
Additional features of this building will include:
Concierge

Intercom system

24 Hour security

Valet Parking

Underground parking

2 Elevators
This building is currently in exclusive pre-sale. The estimated delivery for this building is October 2017. It will be a spectacular construction, with style.  
For more information on this developer and project please visit their website www.gmb.com.mx