Isla Mujeres
Isla Mujeres (moo-hair-ez) or Island of the Women was a sanctuary to Ixchel, the Mayan goddess of love and fertility.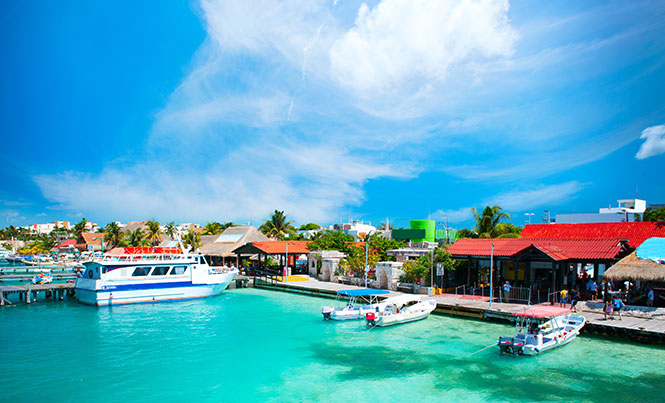 Isla Mujeres (moo-hair-ez) or Island of the Women was a sanctuary to Ixchel, the Mayan goddess of love and fertility. Mayan women traditionally made pilgrimages to the temple of Ixchel as part of their transition into womanhood. The island is situated off the northeast  coast of Cancun and is 5 miles long by half a mile, at it's widest point. Isla Mujeres is well known for being home to a wide variety of wildlife such as dolphins, birds and the famous whale sharks (May to September).
It is also the perfect place to spend a relaxing break due to its beautiful white sand beaches. Its quaint downtown area has a wide variety of seafood restaurants and entertaining nightlife.
Distance from Cancun: 8 miles
HOW TO GET THERE
Ferry
From the Cancun International Airport you can take a shared airport colectivo van (around $18 USD per person) or private taxi (around $60 USD) to Puerto Juárez which is 15 minutes north of downtown Cancun. There are two ferry services, Ultramar and Magana at Puerto Juárez. Both cost 80 pesos one way (about $6 USD). The boats leave every half hour and the crossing takes 15 – 20 minutes.
From the Cancun Hotel Zone in a ferry service runs from the main pier, at Playa Linda 9:15 am, 10.30 a.m., 11.45 a.m., 1.15 p.m. and 4.14 p.m. The cost is $15 USD. Taxis to Puerto Juarez will take about half an hour from most places in the hotel zone depending on your location and the cost is about $30 USD, so for a day trip take the ferry from the Hotel Zone instead of Puerto Juarez.
WHAT TO SEE
Downtown Isla Mujeres downtown has plenty of places where you can rent a bike, moped or golf cart, which is the official transport of the island. If you like exploring by foot, this island is the perfect place to do so as it is surrounded by roads, paths and promenades by the sea.
Contoy Island National Park. This place is 30 miles from Isla Mujeres. It is home to 152 bird species, whale sharks and it is also a turtle breeding area. Half-day tours are offered in many locations and cost around $70 USD. Tours normally include snorkeling at Ixlache reef or with the whale sharks and a visit to the National Park as snacks and drinks.
Punta Sur. At the southern point of the island, you will find the Mayan temple of Ixchel, the goddess of love and fertility, we well as other archaeological remains. Punta Sur is 65 feet above sea level, the highest place of Yucatan peninsula. It is also known as the Dawn Reef since it is the first place where the sun rays touch Mexico. From here you will have a great view of the cliffs, Isla Mujeres bay and Cancun. $35 pesos entrance.
MUSA. Museum of Underwater Art. This project by a British sculptor Jason deCaires Taylor is situated close to the west coast of Isla Mujeres.  One of the largest in the world, you can dive or snorkel over the sculptures, which are about 25 foot deep.
Women's Beading Cooperative. A 57 strong group of local women who formed a cooperative producing high quality jewellery and purses. The women get a percentage of their sales and the rest goes toward supporting the project. Open Monday to saturday 9 a.m. to 5 p.m. it is situated near the Red Cross and church at the south end of town.[/vc_column_text][/vc_column][/vc_row]