Animal Welfare
The Bull Sharks of the Riviera Maya
Each year females bull sharks visit the Mexican Caribbean. They aren´t here for the great beaches and nightlife. They come to give birth to their young in the cooler waters we experience in the winter months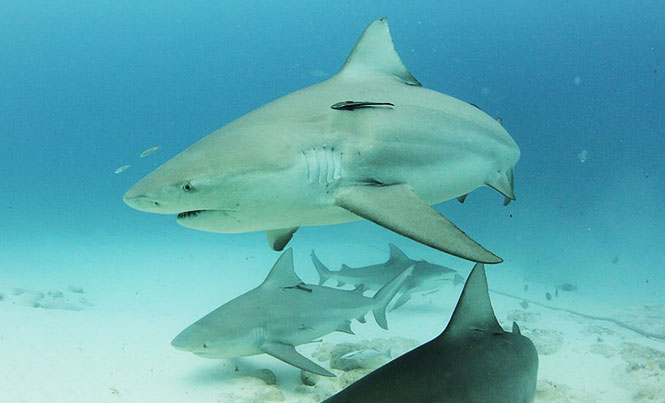 From November through March, bull shark season arrives in Cancun and the Riviera Maya. Although they are considered to be one of the most dangerous species of sharks, they are a highly valuable predator in the marine ecosystem, and thousands of people each year visit the area to scuba dive with them.
Dive shops have been attracting divers to the area by offering bull shark dives. Divers from all over the world come to dive with the sharks as there are not many other opportunities to get up close and personal to these top ocean predators.
Sofía Velásquez, who runs a well known scuba dive center, explained that they foresee the arrival of hundreds of female bull sharks to the Mexican Caribbean, as, it is believed, they come to the region to give birth to their their young.
"We don't know exactly why they come, but we believe that it is one part of the process to have their young. We don't know exactly where they have them, they arrive pregnant and suddenly they disappear for a week and they return thinner", she commented.
To help preserve the species in this area, the association, Saving Our Sharks, published a Guide to Good Practice manual. This document is available on the www.savingoursharks.org website and outlines ways to minimize the risk of accidents, maximize the experience for divers, and develop an awareness among visitors to the imptorance of sharks in the ecosystem.
The organization has also placed sensors to learn more about the sharks' behavior. This system has been installed in 18 places in the Mexican Caribbean, with 18 detectors and a total of 28 sharks with trackers. The first time that the system was used, more than 30 individual visits were registered in Playa del Carmen.  
It is estimated that each year, more than 15,000 people dive with the bull sharks. However, the pier operations near the open sea zone could be affecting their habits, as the passing of ships in the bay overlaps their traditional swimming zone.
Lastly, Francisco Chan, secretary of the scuba divers' union, lamented that the animal has been caught by fishermen who don't respect the season when bull sharks are born. Although this illicit activity has diminished, there are still sharks found with a hook in their jaw.