Foodies
Doña Paula´s: A Playa Can´t Miss Restaurant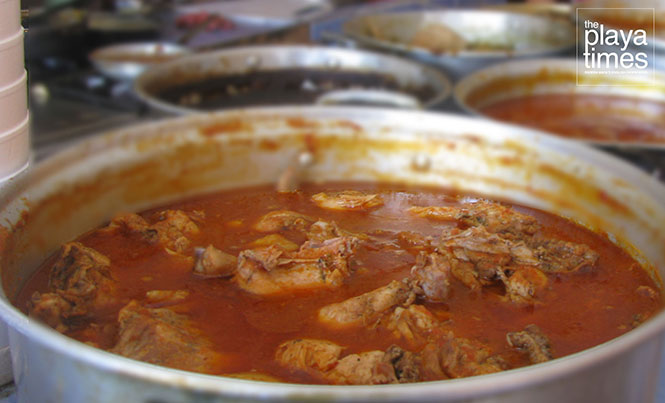 In our Adventure Foodies column we're going to explore some places that you may not have heard, are off the beaten path, or appeal to our frugal side
Today, I went to one of my favorite spots right in Centro. Sometimes it seems that for every restaurant that opens, ten more close. However, Doña Paula´s on Calle 6 between Avenidas 10 and 15 has been open for eight years and still going strong.
You´ve probably never seen this restaurant, even though you've walked by it a million times. From the outside, Doña Paula´s looks like someone's apartment. If you walk up Calle 6 from 10th, it will be on your left before 15th – a blue building with stairs. This tiny restaurant is home to some of the best comida casera (home cooked food) in Playa. When you walk in, you will be greeted by large pans on the counter filled with the comida del día (food of the day).
Today,  they were offering: pollo en chipotle (chicken in a chipotle sauce), costillas en salsa verde (ribs in a green salsa), mole con pollo (mole served over chicken), cochinita pibil, picadillo (a stew made with ground beef), bistec a la mexicana (Mexican-style steak), pozole, caldo de pollo (hearty chicken soup), and caldo de res (hearty beef soup). The comida del día comes with soup, agua sabor (flavored water) such as jamaica or tamarindo, and a side of black beans and rice. And of course, a side of tortillas!  The prices range from about $55 pesos to $65 pesos ($3-3.60 USD).
In addition to their comida del día, they have a large selection of other meals. Just look up on the walls to read the handwritten posters for options and prices. Still don't see what you were hoping for? Then, just ask. They might be able to cook it up for you!
I decided to ask my Mexican co-workers what they thought of Doña Paula's food. I brought back four meals: the chicken in chipotle, the Mexican-style steak, the cochinita pibil, and the picadillo. They loved it, but the cochinita pibil was the biggest hit.
Tips:
Bring smaller bills.

English is not spoken but pointing out what you want works!
Doña Paula´s is open daily from 8:00 a.m. to 11:00 p.m. They are located on Calle 6 between Avenidas 10 and 15.