Foodies
3XL Comida Grande: Great Burger in Paradise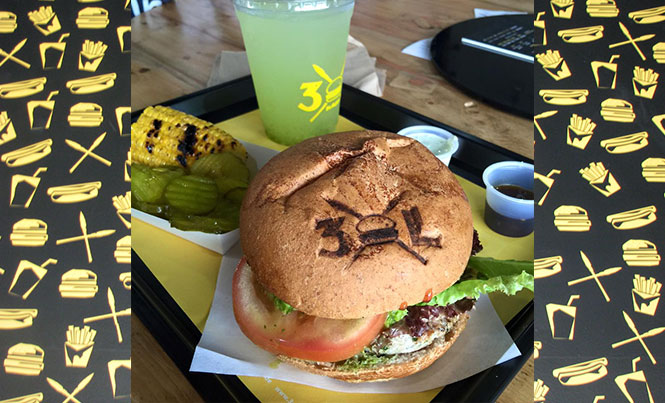 Looking for a really good burger in a casual atmosphere for an affordable price? Look no further than 3XL Comida Grande on Calle 8
People ask me what I miss most about living in the United States. That´s easy.  A good burger. There are a lot of burger places in Playa and a lot of restaurants that have burgers on their menu. But what Itpt´m looking for is a real burger. As in a Fourth of July cookout kind of burger made from fresh beef that you patted into the perfect thickness and shape, cooked on a grill, cheese melted to perfection and piled high with the toppings you want.  That is what I have been looking for here and let's be honest; I hadn't found it. That is until now.
I had been hearing a lot of buzz about a new burger place in town and decided to check it out. I had seen them building the space towards the end of last year and didn't think much of it. Then, I started to hear rumors that it was a burger joint, and the reviews were really good. I finally stopped over there the other day, and I must admit, I think I found what I was looking for at 3XL Comida Grande (Calle 8 across from Walmart).
First, you decide what kind of burger you want – Muu (beef), Puerco (pork), or Pollo (chicken). You can choose just a burger or a combo. Their combos come with a soft drink and a side (french fries, sweet potato fries, or corn on the cob – that's right, we're talking Fourth of July-style cookout). Then, decide on the size 1XL, 2XL or 3XL. I went with the 1XL (150 grams) on a classic bun and a side of fries.
The burgers are cooked on a grill, so you get that nice, smoky flavor, and it really brings out the taste of the beef. All their beef comes from the north of Mexico from the state of Chihuahua. The northern states are known to have the best beef in the country and owner,  José Manuel ¨Cheo¨Arcia, told me he gets his meat delivered fresh daily, so it is never frozen. He also gets his produce locally, and the buns are from a local bakery. He prides himself on the fact that all his ingredients are fresh and never frozen, and you can taste the difference.
After you get your burger, you get to add all your toppings. There is a huge build your burger bar with everything from a variety of salsas, fresh veggies, and of course, the traditional ketchup, mustard, and mayo.
There are other options on the menu besides burgers. 3XL also has a selection of hot dogs and for the vegetarians reading this, don't worry, Cheo´s wife has been a good influence on him and encouraged him to add vegetarian options to the menu. He has two types of vegetarian burgers, black bean or quinoa.
Whether you are a local or a tourist, 3XL Comida Grande needs to be on your list of places to eat in Playa.
3XL Burger officially opened on December 1, 2015, across from WalMart on Calle 8. In addition, to amazing burgers, they serve up bbq ribs, hot dogs, sweet potato fries, and more. They are open daily from 1:00 p.m. to 11:00 p.m. and currently accept Visa and Mastercard. They also offer home delivery (984 803 1519) Visit them on Facebook/3XL Comida Grande.