Foodies
Passion Restaurant by Martín Berasategui Celebrates Distinctive AAA Five Diamond Award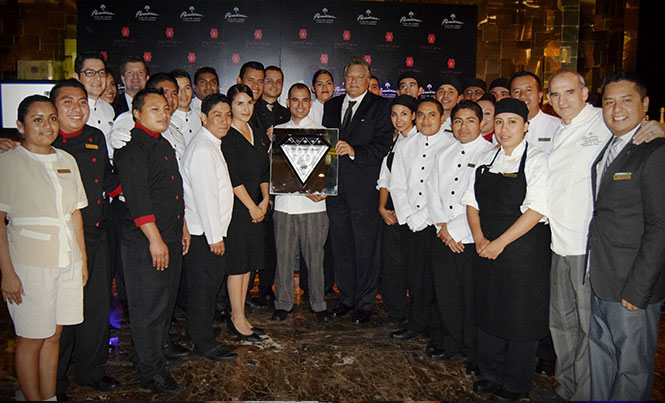 This is the third year in a row the restaurant, located in the Paradisus Hotel in Playa, earned this recognition
Passion Restaurant, by Spanish chef Martin Berasategui, at the Paradisus Hotel Playa del Carmen, part of the Meliá Hotels International group, is celebrating after receiving the prestigious AAA 5 Diamond Award for the third year in a row. This award is known as the highest award possible given to hotels and restaurants by the American Automobile Association.
To celebrate, the resort organized a party where they served delicious dishes by chef Maximiliano Sola. The guests enjoyed the gastronomy offered by Passion by Martín Berasategui during the presentation of the distinctive award given by Tony Perrone, Regional President of AAA.
Tony Perrone emphasized the importance of obtaining an award such as this, indicating that many restaurants are evaluated and few receive this rating. "Receiving this award is no easy task, Passion always surprises with its recipe quality and continues to be successful, because of this, it has received this award for three years in a row", expressed Mr. Perrone.
Daniel Lozano, General Director of Paradisus Playa del Carmen, thanked the entire team for making Passion one of the best restaurants in Mexico. Only 7 restaurants in Latin America have this award, which shows that Passion by Martín Berasategui guarantees a highly personalized dining experience.
"We are very thankful and with more enthusiasm than ever to continue working in the best way we know", wrote Berasategui on social media.
Attila Gombos, Director of Food and Beverage at Paradisus Playa del Carmen, explained that receiving this distinction is an honor, and because of this they will continue striving to offer the best culinary experience.
Restaurants with the Five Diamond award represent only 0.2% of 30,000 restaurants evaluated each year. In North America, the places with most Five Diamond award winning restaurants are: California (9), Nueva York (9), Illinois (6), Quintana Roo, México (7) y Nevada (5).
Passion by Martín Berasategui is open to the public and reservations are needed. For reservations, please call 984 877 3900 or you can send an email to paradisus.playadelcarmen@melia.com.

More information about the AAA awards is available at newsroom.aaa.com/diamond-ratings. To learn more about the award winning restaurant, visit: Facebook/Passion by Martín Berasategui. For more information about Paradisus Resorts visit www.paradisus.com  and Meliá Hotels International, please visit www.melia-hotels.com.