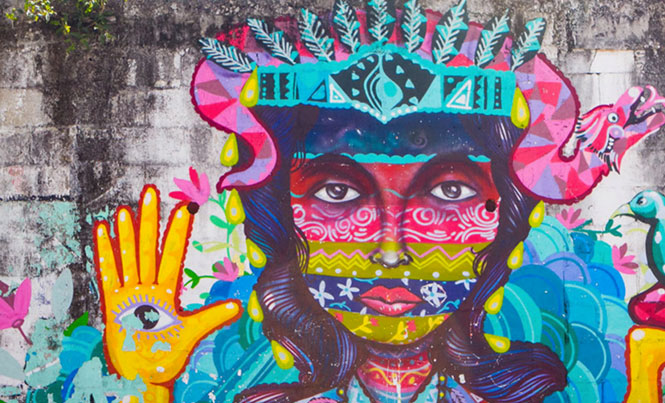 Local and international artists have come to the small Mexican beach town looking for inspiration and have found an eclectic community of artists and businesses willing to exchange whatever they can offer to decorate their venues with art
In addition to its iconic ruins and beautiful beaches, Tulum is known for its art. Here is a quick guide for those looking to mix art into their historic and natural discovery of the region:
Tulum Art Club
Tulum Art Club (TAC) began as a way to exhibit art created at Residencia Gorila, a premiere artists residency and guest house located in Boca Paila, Tulum. TAC is composed of a gallery, a café with refreshing drinks and a selection of dishes curated by Cezontle,. They also have a business center, an indoor event venue and photo and video studio space. The art club was launched January 2016 as a gift to the community of Tulum to both exhibit art and also to be a space of creation, recreation and collaboration between artists and art lovers. (And the coffee is exceptional, freshly ­made and organic from Veracruz). Located on the corner of Avenida Tulum and Avenida Satélite. More information at Facebook/TULUM ART CLUB.
Residencia Gorila
Only open to the public for breakfast until 1:00 p.m., Residencia Gorila is an artists residency and guest house which hosts many artists, both Mexican and international and provides a space for creation and interaction. Guests and patrons can enjoy delicious vegetarian options while being surrounded by art and the artists currently engaged in the life of Tulum. More information at Facebook/Residencia Gorilla.
Street Art
With just a walk through Tulum pueblo, you will find street art and murals created by artists from all over the world. These works illustrate how they perceive Tulum, like the iconic "Crocodile Mural" which represents a predatory semiaquatic reptile swimming in polluted Tulum water. Or the spooky "Coral Reaper" on which Belgian painter Guillaume Desmarets and NYC­ based artist Spencer Keaton collaborated to bring to life the story of a dead diver becoming part of the sea surrounded by living sea creatures. It's all over town, and part of the fun is finding it.
Quintana Roots Hostel
Apart from being the best bang for your buck, if you're looking for quality budget­ friendly accommodations in a stimulating environment, this landmark hostel is decorated inside and out by murals alluding to the underwater theme of many of the attractions they offer. Patrons lounge comfortably surrounded by art and interacting with a wide variety of photographers, musicians and artist who choose to stay there during their time in Tulum and keep coming back. Located on Calle Sol Oriente. More information at Facebook/Quintana Roots.