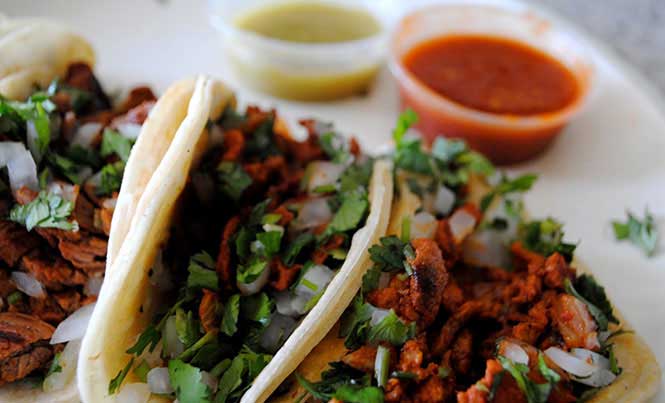 Visit this Tulum institution for its famous tacos al pastor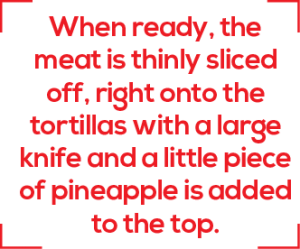 Antojitos La Chiapaneca is an institution in Tulum. If you haven't been yet, drop everything and make plans to try it for dinner tonight. It's easy to find, just look for the line of people waiting for their taco fix.
La Chiapaneca is known for its tacos al pastor and you'll know it the minute you walk up and see them cooking on the spit in the front of the restaurant. If you have never had pastor, here's the scoop.
Pastor is a dish developed in Central Mexico and suspected to be a result of the adoption of the shawarma spit-grilled meat that Lebanese immigrants brought to Mexico. If you are familiar with shawarma or Greek gyros, you have the basic idea, except that pastor is made from pork rather than lamb. First, the pork is marinated in dried chilies, achiote, spices, and pineapple. Then it is slowly cooked over a gas flame on a vertical rotisserie (again, like the shawarma or gyros) with a pineapple on top. When ready, the meat is thinly sliced off, right onto the tortillas with a large knife and a little piece of pineapple is added to the top.
Tacos al pastor are certainly not the only thing on their menu, but what you could consider their signature dish. Once the tacos come to your table, you can garnish with the salsas and limes. They have an onion and cilantro mixture, a red and a green salsa. All very tasty, but watch out for that red salsa, it will get ya!
Before you go, just know that they don't serve beer. So, enjoy a classic Mexican Coke with your dinner and then plan another stop for cocktails after dinner.
Oh, and did I mention you can eat like a king for under $5 USD?