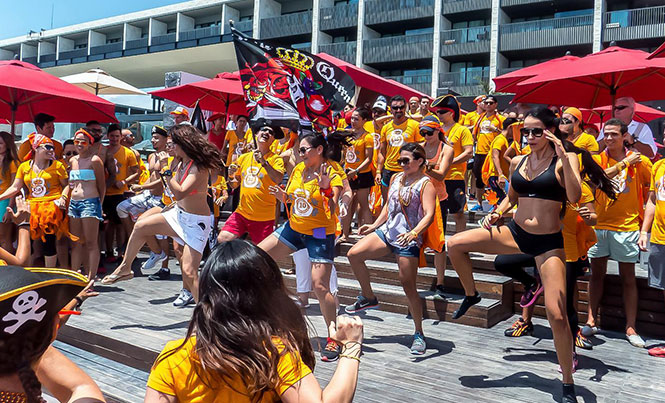 The Gym family celebrated their 10 year anniversary by hosting a pirate-themed rally around Playa
On Saturday, April 16, The Gym invited members, friends and some of their most prestigious commercial alliances to participate in a pirate-themed rally around town, to celebrate a decade of success in fitness, well-being, health and sustainability lifestyle in Playa del Carmen.
"We wanted to do something fun, so if everyone finds their treasure at the gym for their body, why not to do a treasure hunt around town?¨ explained director of The Gym, Kathy Somoroff. She added, "I am so happy. We all are a big family. We had such a great time together. We had so many people at the celebration, everybody having fun, winning prizes, having brunch. It was amazing. We ARRR a big family and next year it's going to be even bigger."
Rules and maya-style ceremony
110 competitors arrived at The Gym at 9:00 a.m. to be part of 10 teams of 10 people each, lead by one captain. They received the rules and a map with clues to be discovered and a list of required implements. In every challenge, they acquired clothing items to wear and accessories to their pirate attire. Also, they were given a list of products to be collected to save in their treasure chest, to score points and to play for winning prizes.
To start the rally, an ethnic group called Mayaztecas brought three drums whose sounds represented the heartbeat to boost the energy of each participant. They also greeted the four cardinal points and made a cultural tribute to the three Jaguars and ask them for protection and strength for all the warriors of that day.
60 seconds to define a winner
Communication skills and finish time of each team defined the winner. The route of the rally started at The Gym to 5th Avenue. There was a tie between the two first teams. To define the winner, the team captains, did a fitness challenge that involved doing the most squats possible in one minute. It was then that Carlos Jong did 60 squats in just 60 seconds giving his team the reputable First Place finish. Carlos commented, "The rally was very well organized, demanding and challenging. We prepared every day with weights and cardiovascular activities and still, it was intense. We ran along the beach about 2.5 km in less than 10 minutes to reach the goal. It was a very good team."
Second place went to team Calisterror, lead by Tony and followed by the arrival of the teams lead by Dante, Martha, Nancy, Gaby, Josué, Ruu, Luis and Erika.