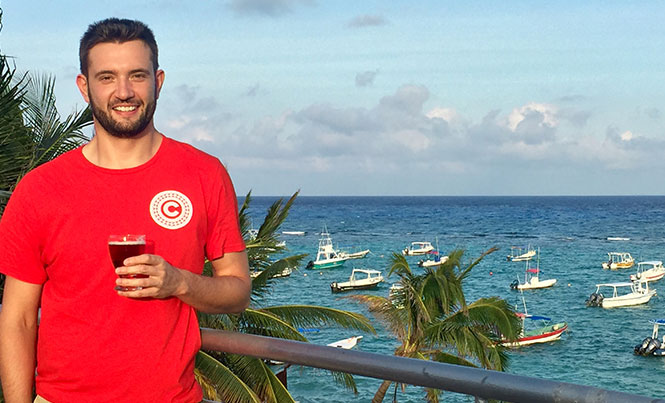 Playa Del Carmen's newest brewmaster thinks it can!
I sat down and enjoyed a beer (well ok, I had wine) with Jeffrey Michael of Carmen Beer Company to find out where his love of beer first started and what brought him to Playa Del Carmen to launch a craft brewery.
Jeffrey's first visit to Playa del Carmen was in 2010 when he set out on a four-month cycle from New York (via Canada to avoid the mountains) through Mexico to Playa Del Carmen, where he attended the COP16 UN Climate Change Conference.
Jeffrey's love of beer first started on a backpacking trip to Germany where he was introduced to 'real beer'. A local explained that with good, nutritious ingredients and a meticulous brewing process, beer is actually good for you!
While working in New York, Jeffrey decided to spend his free time tasting different varieties of premium American craft beer, Belgian-style beer and European imports. This hobby soon turned into a passion as he started home brewing and attending events held by the New York Home Brewers Guild. Jeffrey enrolled in the beer judge certification program and has judged over 40 competitions, now primarily judging specialty beer; classic beer brewed in traditional methods with specialty ingredients. After quitting his job in investment banking, Jeffrey decided to embark on a career in the brewing industry. At Carmen Beer Company, Jeffrey hopes to utilize local ingredients and incorporate them into balanced and well-made beer to provide unique varieties. As a trained sommelier and former-student of New York's French Culinary Institute, Jeffrey's highly developed sense of taste is an asset in recipe design and quality control.
"Mexico is a great market to launch a craft brewery," Jeffrey explains. Having judged beer competitions in Mexico City, Jeffrey witnessed the immense growth of the craft beer market in recent years. "With over 5000 breweries in the U.S. and less than 100 licensed breweries in Mexico, it's currently an undefined market that will evolve in a unique direction" he predicts. Jeffrey sees the Riviera Maya as the hot spot of Mexico and one that is underserved in terms of craft beer.
Currently, Carmen Beer Company is selling custom batches via Club De La Cerveza, kegs for private parties and free samples at local markets. Bottled beer is coming very soon!
Once the brewery set-up is complete, Carmen Beer Company will offer staple beer varieties, Del Laboratorio – test batches of specialty beer, brewery tours and an on-site taproom, located in Plaza Xaman-Ha, near Playacar.
Beer drinking for me typically consists of lager flooded with a shot of lime juice, but I'll resist the urge to corrupt Jeffrey's beer in this way when I visit the brewery! See you there!
Follow their Facebook page for launch details: Facebook/CarmenBeerCo.