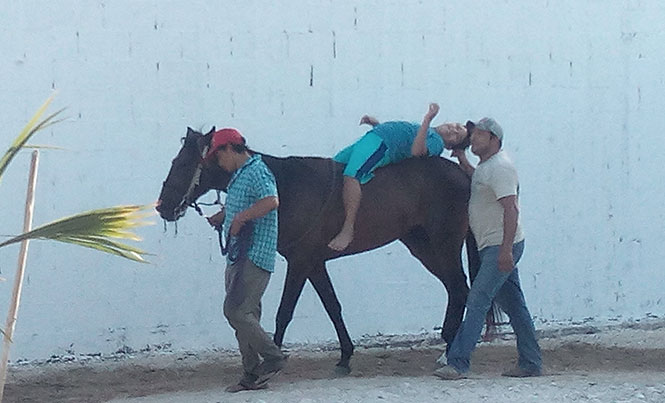 Equinoterapia Sureste Kuxtal is a non-profit organization helping children with with a variety of cognitive or physical disabilities
The Sureste Kuxtal Equine Therapy Center, located in the Nicte Ha neighborhood of Playa del Carmen, uses interactions with horses to help families who have children with a variety of cognitive or physical disabilities, including Down Syndrome and brain injuries. It is also a place where families support each other in a loving environment.
The president, Brenda Ruiz, tells us, "The center has existed since 2010. There are two therapists, including myself. We have four horses, two of which are ridden daily by the ten children. Generally, we provide therapy beginning at three years old. At this age, children can sit up on the horses without help. Mom and dad are also of great help, of course! We don't charge for the therapy. Instead, we run on donations. To us, helping is the most important thing, but if you can help us with at least 100 pesos per session, we would be very grateful. We need all kinds of help and volunteers who are eager to help. You can come just to ride, also. The fee is 800 pesos per month, three times a week."
We met Montse Ortiz and her son Izaak, who is autistic. "We have been coming here for six years, and we have seen some improvement in him every day since. At first, he didn't make eye contact and didn't let anyone touch him. He had zero tolerance for everyone else and was overstimulated. Now, he rides a horse called Freckles, or pets another horse with confidence. He is beginning to integrate more into society."
"We coordinate events. We have a big dinner or breakfast every year, and we are beginning to bring more children to participate in therapy," Brenda added.
The third extraordinary woman we met was Amanda. She is the mother of 13-year-old Haniel, who has infant brain paralysis. "We have been bringing my daughter here for two years. She couldn't stand, and she used to suck on her fingers a lot (not being able to use them). Now, thanks to the therapy, she can stand for 20 minutes with help and does not suck her fingers anymore. She got better after coming here for six months."
We invite you to get to know the center and support this kind and loving work with horses and children. For more information visit Facebook/Equinoterapia Sureste Kuxtal or call 984 879 5071