Good Intentions with Amazing Results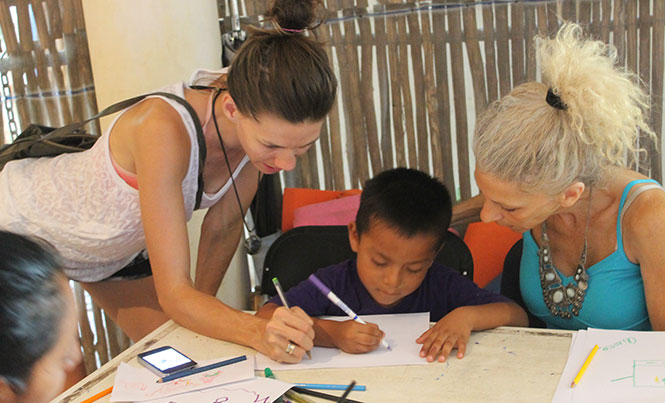 Offering a safe place to learn and grow, this non-profit organization continues to help our community's children in need
Good Intentions Playa del Carmen is a fantastic organization with the goal ¨to provide children from neighborhoods of poverty a safe place to attend, learn, grow and enable them to see the bigger picture, the world of possibilities.¨ We have already had the pleasure to introduce you to this lovely group created two years ago by Aimee Kristie, originally from NYC. We are so impressed by this group we had to reintroduce them to all of you.
Alexandra, marketing coordinator for Nichol and Diamond Consulting, passionate about supporting programs like this, is the voice of the organization. Her company also donated a website to the program. "About eight to 15 children attend the program every Saturday morning. Others are welcome to join us. We currently have a donated space at Palapa Suuk (CTM, between Quinta and 10th Avenue). This space is up for rent. We urgently need a permanently donated space for every Saturday¨.
Activities include practicing English, arts and crafts, yoga and meditation. Alexandra explained that they plan to bring in working professionals to speak about their jobs. The purpose of the program is to get kids socializing outside of their home, broaden their horizons and aspirations. Some of the children attending Good Intentions do not go to school. For example, 12-year-old Rocio and 8-year-old Aaron are now able to communicate on a basic English level. All the children demonstrate personal growth and language.
Yoga and meditation are ways to teach them how to relax, and it is a good physical exercise. ¨As a philosophy, we always emphasize that it is good having "Good Intentions" to humans, animals and the environment. We provide a healthy snack at the end of every class. This week, we introduced a fresh baked banana, bread from the "Grumpy Bakers."
The group is sponsored by the Seaside Rotary Club and my company (Nichol and Diamond Consulting). At this point, the main priorities are, along with the space for Saturdays, volunteer yoga teachers and reliable, dedicated and trustworthy volunteers who can assist us with tasks like transportation and organization. We also accept donations such as art, school and cleaning supplies, yoga mats, books and other materials to learn English, first aid kits, a computer to show educational documentaries, a movie projector, water, healthy snacks, fresh juices and fruit, and a volunteer nurse or doctor once a month. Health care is important too!"
For more information visit www.goodintentionsprogram.com
of Facebook/Good Intentions Playa del Carmen.