A Single Breath: Freediving with Camila Jaber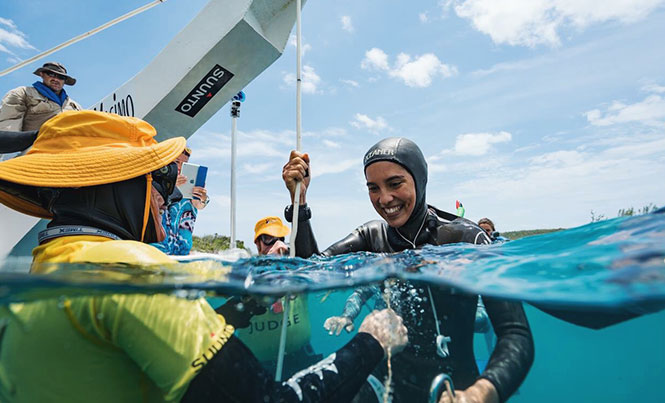 Descending to depths of up to 65 meters, this local freediver is breaking records and studying sustainable development engineering to protect the environment that challenges her to go deeper
Camila Jaber Lara submerges herself into the depths of the ocean. She takes a big breath, and without flippers, oxygen tank or equipment, she goes as deep as her lungs let her (up to 65 meters). Before beginning the ascent to the surface, she feels like the ocean hugs her.
She is the youngest, certified freediving instructor in the world and hails from right here in the Riviera Maya. At only 20 years old, she holds an international and two national records which she won for coming in 4th place as the best freediver.
The modern mermaid also practices recreational scuba diving with bull sharks, the second most dangerous fish in the world, and with whale sharks and sea lions.
What is freediving?
Freediving is a water discipline in which it is important to hold your breath for as long as you can and go the deepest you can. It comes in three categories: constant weight with flippers, constant weight without flippers and free immersion, which is pulling a cord attached to a floating platform. With a deep breath of air, you can practice freediving in the open sea, in ideal conditions, without a current or when there are not many waves on the surface.
How did you begin in this sport?
I started in the cenotes, more for the fun of exploring cenotes and reefs on my own. But I ended up doing freediving because I felt like I wasn't totally free, as I depended on something else. I tried this new sport, and I fell in love with it because it gave me the opportunity to interact with the environment without using any extra equipment. A semester later, I decided to try competitive freediving because I took a training course in the Bahamas with the world champion. In my first competition, I broke a national depth record.
What was the record?
The first one I broke was 65 meters deep, which is equivalent to a 22 story building.
What techniques do you use?
All three disciplines. The last competition I went to was Vertical Blue, which is very prestigious. It is known as the "Wimbledon of Freediving". There, three world records were broken and 38 national ones. We were a total of 20 women, and I came in 4th place. Now, I am specialized in freediving because it is more demanding and pure at the same time, you don't have anything to support you, and I like that challenge.
What is Freediving for you?
Freediving creates awareness of the environment and makes you realize that the ocean is a fragile ecosystem, and we have to take care of it. For this reason, I am studying Sustainable Development Engineering.
Camila Jaber's next goal is to enter the Caribbean Cup in Honduras and the Individual World Competition. She is asking for help from companies and people interested in sponsoring her. Those who wish to do so, please contact her at Facebook/Camila Jaber Freediver