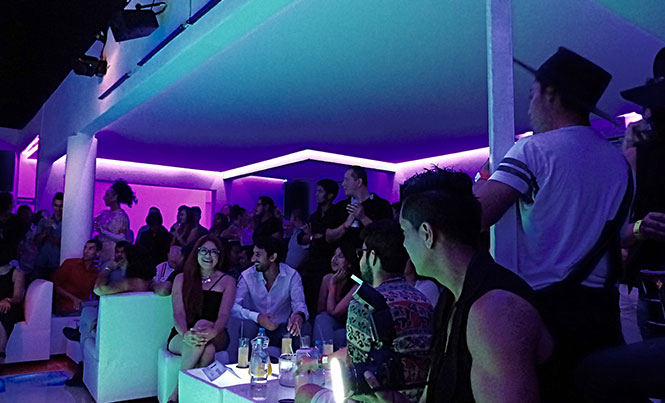 The LGBT community in Playa del Carmen celebrates the grand opening its newest nightclub where everyone is welcome!
It was a perfect night; the sky was full of stars and the moon was shining brightly on Playa del Carmen for the Grand Opening of the new LGBT nightclub, Divers.
The name Divers has been chosen for the diversity of the people that are welcomed in the nightclub, and that is everyone! From gay to straight, lesbian to trans, bisexual to queer or bear to leather, no matter who you are or what you like, Divers is the place for you to enjoy amazing shows and dance all night long to the sounds of DJ Pauleto!
The inauguration started at 11 p.m. with the ribbon cutting by representatives of the LGBT community, Jan Novak from Playa Pride & Fusion G and myself, Ginger from LesMex & Life is a Beach Productions. We were greeted by Alejandra Zepeda, Public Relations and Leandro Olmedo, Operations Manager.
There has never been a place like this in Playa del Carmen, and we are proud to be able to join this journey. Divers is open Tuesday through Sunday from 11 p.m. to 6 a.m. It has a whole new concept of nightlife for locals, expats and travelers. Former General Manager of the well known B.E.D Nightclub in South Beach, Miami was quoted saying, "This is the most entertaining and carefully thought out nightclub I have seen so far in Playa del Carmen." She went on to mention she is looking forward to more evenings like this one! The LGBT community has been asking for a venue like this for a while, and it is finally happening with the precious hard work of Alejandra Zepeda, Public Relations of Divers.
After the ribbon cutting, everyone was invited inside, where a colorful old school dance floor, white walls and sofas were welcoming to the all aged crowd.
It goes without saying that everyone enjoyed the classy look of the club, inside and out. From the lounge-style outdoor smoking room to the music, table service and the classy restrooms with linen towels, everything was perfect. They kept a full house all night, with numerous stunning performances by choreographed dancers and strippers. Fernando Romero, Divers' Artistic Director, did an amazing job designing the fabulous outfits and the entire show. The opening was a huge success, and the staff did a great job attending to the guests.
Divers is already working on exciting events for their guests such as karaoke night, laughter yoga, acting classes, art exhibition, etc.
If you, dear readers, have any ideas or projects you would like to present to Divers nightclub, please contact Leandro Olmedo, Operations Manager or Fernando Romero (+52 1 984 208 5012 or +52 1 744 143 9221).