Celebrating Another Successful OHL Classic at Mayakoba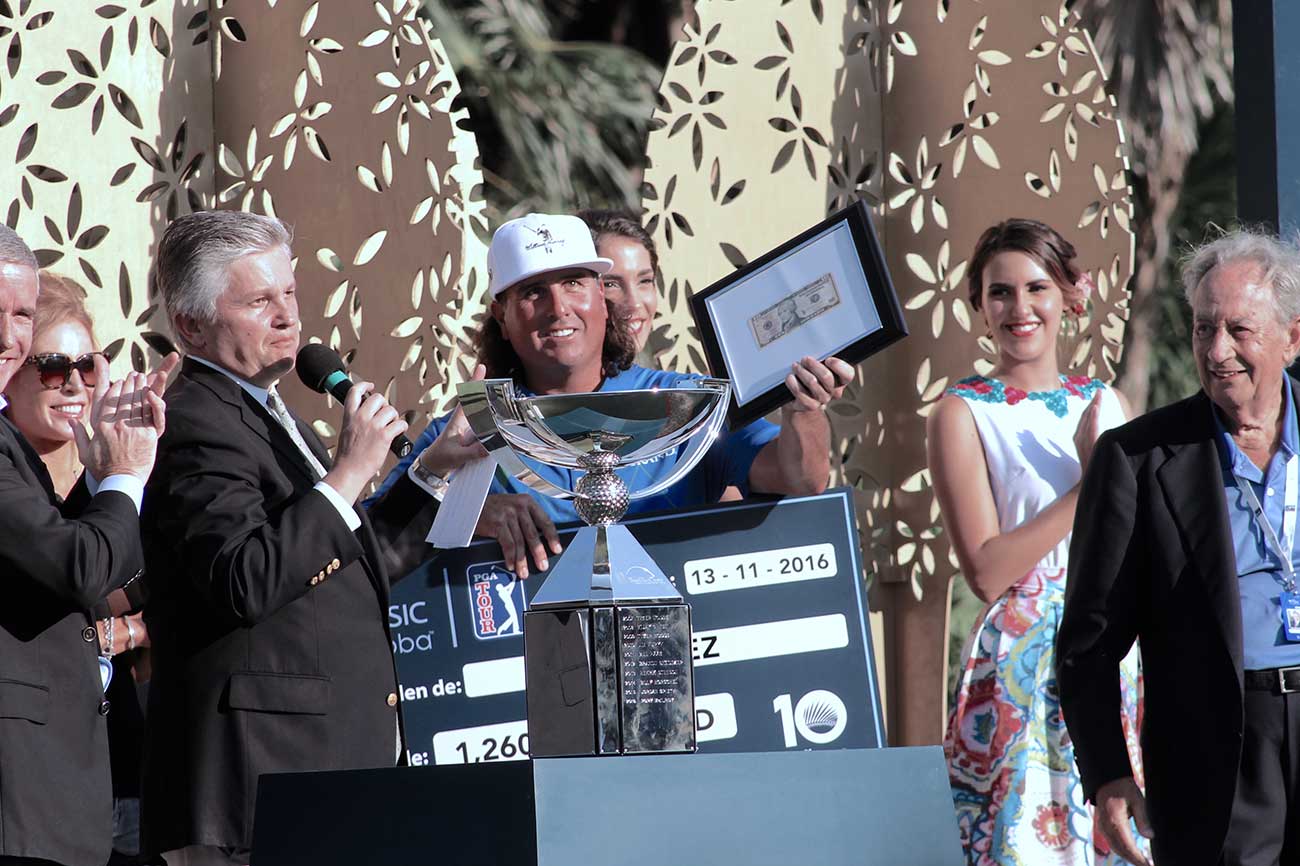 Mayakoba is quite a spectacular resort complex, and its golf course is no less impressive. El Camaleon, designed by Greg Norman, held its 10th OHL Classic from November 7 to November 14. 132 professional golfers battled it out over four rounds of stroke play for a purse of $7,000,000, with only one winner in the end, and I was lucky enough to be there to witness it.
I arrived on the day of the final round, and crossing through El Pueblito, I wandered through the exit to the course and then caught a shuttle from the clubhouse entrance, and onto the course where I was able to catch some players teeing off.
I was familiar with the layout of the place and the course itself, but this time, it felt much different. There was a buzz of activity as well as many people, but I still found it quick and easy to get around the premises. A transport was arranged to take me to the Fairmont Hotel, where the media center was located. Set up in one of the conference halls for the visiting media there were various tables lined up and monitors and screens showing up to date information and stats, along with the live feed of the tournament.
2016 OHL Classic Final Results
1.- Pat Perez
2.- Gary Woodland
3.- Russell Knox
4.- Kevin Streelman
After a quick tour of the premises, including their beach club, I was soon back on the course and mindful to get to the final 18th hole for the closing ceremony. Pat Perez had won, finishing in first place with a -21 under par, just ahead of Gary Woodland and Russell Knox. Perez has some Mexican background, and when he got on the microphone after receiving his prize, he acknowledged the local support that he had received. He also went on to describe the experience of getting to the tournament in the first place, as he was in recovery from an operation that took him off the golf course. It was impressive to hear him describe his experience, also fully aware of how difficult it is to shoot a score as low as he did. He hoisted up his prizes, and the crowd cheered.
Thankfully, security had allowed me to get a spot on the other side of the public barriers, affording me the opportunity to get some nice shots of Perez on the podium. I looked around and could see plenty of families and couples of different ages in attendance. Canadians, Americans, Mexican, Argentinians. One fellow Canadian recognized my CBC media hat and commented  "I come here every year. I'm retired now and spend my winters down here. And I love golf, so this is like a vacation for me."
The crowd soon dispersed and headed to El Pueblito where the celebration continued. There were games for the kids, music was playing for those who wished to dance, and bottles of Strongbow and Heineken were handed out to those who wished drink.
It was a great day, and I view the game differently as a result. Golf is not the same when you are on the ground walking the course. It gives you a real appreciation for the skill of the players, and you get some exercise too. As someone one said, golf is a game for walking, and there's no better place to enjoy a day outdoors than on the fabulous grounds of El Camaleon and Mayakoba.