Lagunas Mayakoba: Planting the First Seed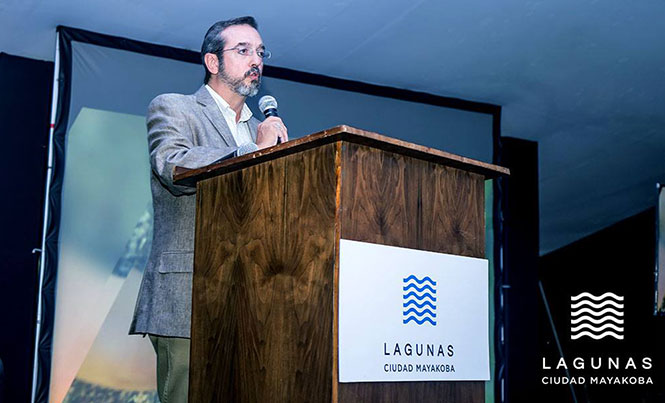 The new project will be located in Ciudad Mayakoba, a planned community just a few minutes north of Playa del Carmen, with a focus on the environment
On the evening of Thursday, November 24, invited guests, VIPs, and clients gathered in Ciudad Mayakoba for a very special event: the celebration of the start of work of Lagunas Mayakoba, which was taking place in a lot located inside Ciudad Mayakoba. It also included a ceremony for the first seed of the first tree that would be planted, which would symbolize the growth of Lagunas. The organizers had set up a tent area, complete with furniture, a bar, and lighting that reminded me of a club lounge. Guests trickled in and situated themselves at a table or on one of the sofas, accepting complimentary drinks from the attentive and professional waitstaff. As everyone enjoyed a margarita or a Cuba libre some very talented performers juggling torches took their places and entertained onlookers with their with skill and precision, lighting up the night sky.     
Once the space had filled up, the guests were thanked for coming and for placing their trust in the project. The presentation began, accompanied by a video showing the vision behind Lagunas Mayakoba. It was explained that Ciudad Mayakoba will feature all the necessities and comforts for the planned community, including schools, hospitals, commercial areas, an urban park, sports venues, and cultural areas. All of this spread over an area of 24.7 acres of green space. Their objective is to have commercial and housing developments converging in a manner which is in harmony with nature. Some of the amenities that really stood out are the kayak club, swimming and infinity pool, recreational areas, a fitness zone outdoor grills, and 24/7 security. Lagunas is designed by architect Dennis Sheridan, who is responsible for some of the Four Seasons properties.
After the presentation, live music followed, and appetizers were brought around to the tables with a selection of mini pizzas, chicken shish kebabs, and mushrooms. The wait staff was very attentive to everyone there, offering up wine to those who wished some. There were many happy faces all around, with much congratulating and handshaking. The night had gone very well, and the Lagunas Mayakoba project looks destined for success.
For more information about Lagunas visit their website: www.lagunasdemayakoba.com or on Facebook/LagunasDeMayakoba.