Foodies
Lara & Luca – International Dishes, Desserts & Cakes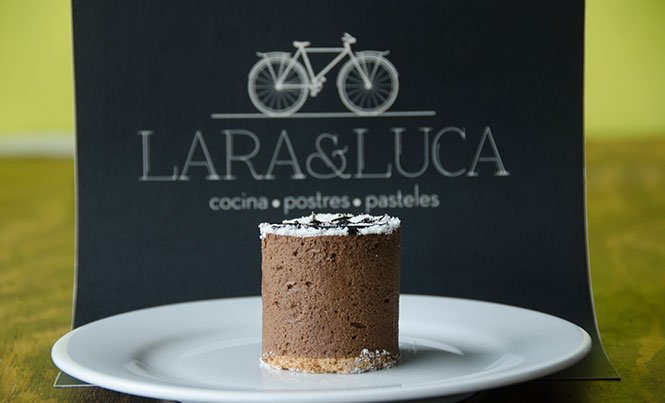 The cafe located just outside Playacar has been open since July and growing in popularity with locals looking for delicious international dishes, desserts and cakes
Just outside of Playacar along Avenida Aviación, a short distance from 10th Avenue, you will find a storefront with the logo of a bike out front and a sign that says, Lara & Luca. But don't let the image fool you. It has nothing to do with cycling. It´s a cafe, run by a husband and wife team, Lisa and Roberto, originally from Guatemala. Their focus is on select dishes of international cuisine, along with a selection of desserts and cakes. The latter are becoming quite popular with local businesses who wish to celebrate a special event. Despite being open only since July, the word is getting around. Lunch time is proving to be busy, as I found out for myself when I dropped by to sample their cuisine.
Roberto got into baking as a volunteer in Switzerland. He worked for six years in London, where he gets gained a lot of his pastry experience in very good restaurants. He also spent time in Spain, where he add international cuisine experience to his resume. This journey is what is reflected in their project that is named after their children.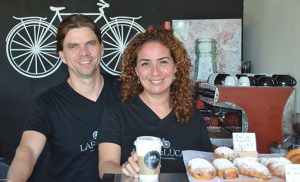 I began with some delicious brochetas de pollo (chicken shish kebabs) which came with a spicy peanut sauce.  This was followed by ravioles de calabaza (pumpkin) made with the butter from capers, along with sage and lime. This was of a much higher quality than the ravioli I am accustomed to eating in many restaurants, which often is similar to that which you buy at the supermarket. I was told that this the traditional way of making it in Italy. However, this particular recipe was a French interpretation. International cuisine indeed!
I ordered an espresso to go with the dessert that came next, and it came in the form of sticky toffee, which was quite delicious. It's not something that I usually eat.  "This is quite a common dish in London. You'll find it everywhere,¨ I was told. Within the hour in which I was there, I felt as my taste buds and stomach had completed a journey through various countries.
The owners Lisa and Roberto are very welcoming people, and you can see what a labor of love this is for them. They are open for breakfast daily and have a comfortable environment equipped with WiFi and a friendly, attentive staff. I am certain to go back again soon and try something else on the menu. I highly recommend it to those looking for a new experience here in Playa. Whether you are lucky enough to live here or just visiting us on vacation, you will find Lara & Luca just outside of Playacar. They are open Monday through Saturday 8:00 a.m. to 8:00 p.m. and Sundays from 8:00 a.m. to 2:00 p.m.
Lara & Luca
Avenida Aviación
Between the highway & Avenida 15
Facebook/Lara&Luca
984 157 3525