Mexican "Pick Me Up" Dessert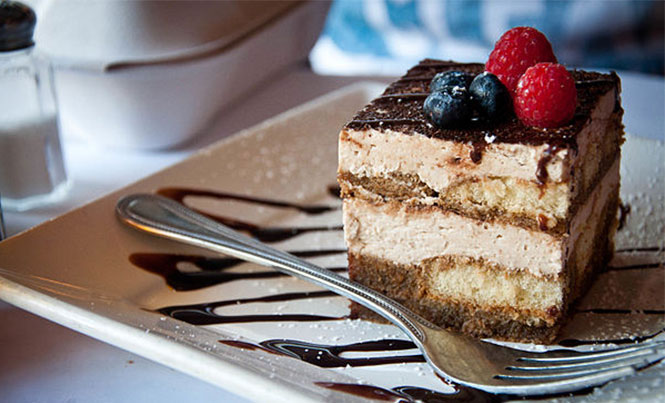 If you are looking for a new way to enjoy tiramisu then try our recipe, which gives a local flavor to the popular coffee-flavored Italian custard
Serves 6
INGREDIENTS
6 egg yolks
1 cup sugar
4 oz container mascarpone (can be found at Walmart)
1 teaspoon Mexican pure vanilla
1 quart heavy cream (crema batida)
24 lady fingers
1 cup dark roasted Chiapas coffee (similar to espresso)
3 tablespoons Xtabentun
For decoration: Mexican cacao e.g. Abuelita or Ibarra, and chocolate sauce
Whip the yolks and sugar together at medium speed till thickened and pale. Add the mascarpone and vanilla, blend till incorporated.
Separately whip the heavy cream to stiff peaks. Fold ¾ of the cream into the egg mixture, but don't over-fold. Pour the Xtabentun into the coffee and let stand. Place one layer of the ladyfingers on bottom of a 10×10 dish and brush with the coffee mix, top with cream mixture and another layer of lady fingers and finish with a layer of cream. Cover the dish and place in refrigerator for at least 1 hour — the cream will thicken somewhat.
To serve, cut a piece of this dessert, place a dollop of whipped cream to the side, dust with a little cocoa, drizzle with some chocolate sauce and stick a crisp lady finger on top.
You can also make a mini-version in a disposable container as a hostess gift.