Underwater Grass Meadows – An Ignored Key Ecosystem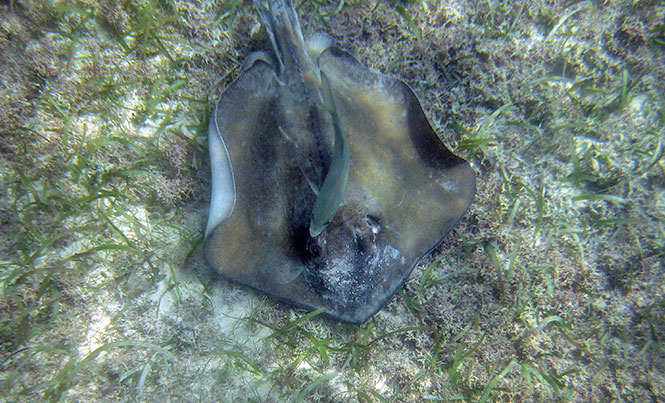 This ecosystem is crucial for life in our Caribbean coral reefs and coasts, so it should not be neglected or ignored from management or conservation measures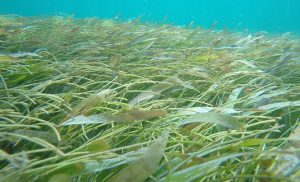 Did you know there is actual grass in the ocean? Seagrasses are considered plants and not seaweed because they have roots and veins useful to transport nutrients and oxygen, those structures are not present in seaweed. Seagrass also has underground stems called rhizomes that hold the plant in place. It has leaves, and it produces flowers and seeds, unlike seaweed. Seagrass, like all plants, uses the sun's light to convert carbon dioxide and water into sugar and oxygen for growth through photosynthesis.
Seagrass is found in shallow marine waters like bays and lagoons around the world; they are usually found between 1-4 m deep although some species have been found as deep as 58 m! There are around 72 species of seagrasses, and the tallest seagrass species can grow as tall as 7 m!
Seagrasses are a key ecosystem with an important effect on other animals and provide many services to humans. For example, seagrass meadows provide food for many marine fauna like turtles and manatees. They also support fisheries and biodiversity as nurseries for many commercially-important species like spiny lobsters, shrimps and many fish as they provide food and refuge from predation. Many colorful fish found on coral reefs need mangroves and seagrasses for their juvenile stages. Many species of migrating birds use the shallow seagrass meadows as resting and feeding areas during their travels.
Importantly, seagrasses clean surrounding water, they help take carbon dioxide out of the atmosphere, some species store carbon in the sediments they live on, and they also help to stabilize the bottom. They are known to be the 'lung of the sea' because 1m2 of seagrass can generate 10 liters of oxygen every day. Because of all these benefits, seagrasses meadows are believed to be the third most valuable ecosystem in the world!
This ecosystem is crucial for life in our Caribbean coral reefs and coasts, so it should not be neglected or ignored from management or conservation measures. If you snorkel on seagrass, pay attention to the creatures you can find among its leaves and make sure you preserve its fragility by not kicking it.