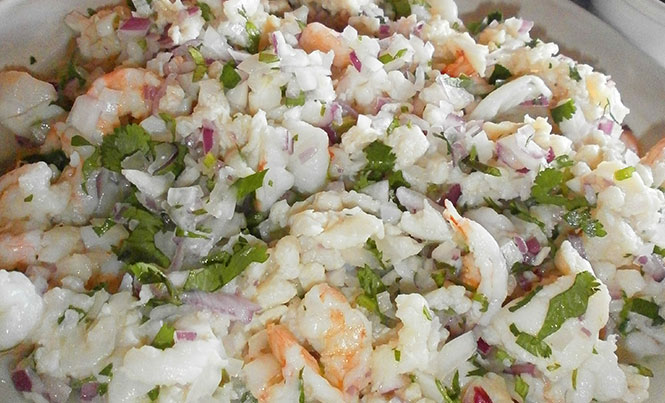 Check out this guide to some of the best restaurants for ceviche on the island
Have you ever tasted the fresh, delicious dish called ceviche? The preparation and consumption of this is practically a religion in Cozumel! Since it is an island, it is the ideal place to eat fresh seafood and one of the best ceviches in the region. But what is it exactly?
Ceviche is a dish prepared using the ancient method of marinating seafood in acidic citrus juices instead of cooking with heat. In Mexico, the seafood is mixed with diced onion, tomato and finely chopped coriander leaves and can be served with toasted tortillas.
It can be prepared with shrimp, fish, conch, octopus, and lobster, to name a few.
Here is a guide to the best places in Cozumel for a nice ceviche:
El Pezcozon

is a very local seafood restaurant on 40

th

Avenue and 10

th

Street. They serve a very special ceviche with fried octopus, or ask them if they have fresh conch for a delicious conch ceviche.

La Perlita

seafood restaurant is famous in Cozumel. It was the first restaurant on the island to propose lionfish ceviche. This beautiful fish, well known to divers, is unfortunately not very welcome in the Caribbean sea, as it is not part of its endemic species. With no predators, the lionfish interferes with other species. So they've decided to eat it! And it is delicious, believe me. Try it on 10

th

Street between 65

th

bis and 70

th

Avenue.

Bahia del Caribe

is a local restaurant where you can eat any kind of seafood. Here they really know how to make a good fish ceviche. Ask for the lionfish or lobster ones. It's on Fifth Avenue after Ninth street; keep going till the end, it is just before the cemetery.

Camaron Dorado

– on the road which takes you to the other side of the island (Transversal de Cozumel), after the gasoline station. Look on the right side for Camaron Dorado and make a stop for a delicious ceviche sandwich, from 8 a.m. to 3 p.m.

The restaurant

El Pescador

is also a good place to eat ceviche on the other side of the island, before Chen Rio.

El Palomar

, on the seafront, is a very nice place to chill out, watch the sunset and have a nice lobster ceviche. It closes at 11p.m. and can be found on 10

th

street and Rafael Melgar Avenue.
Warning: Ask for local fish! I recommend that you ask the name of the fish before ordering.
Unfortunately, some restaurants will prepare ceviche using 'basa', which is one of the cheapest and most common on the market, due to industrial farming of it in Vietnam. Be clear about what you want and what you will get before ordering, to ensure the best ceviche experience.
Facebook/@ElPescadorMarisqueriaBar