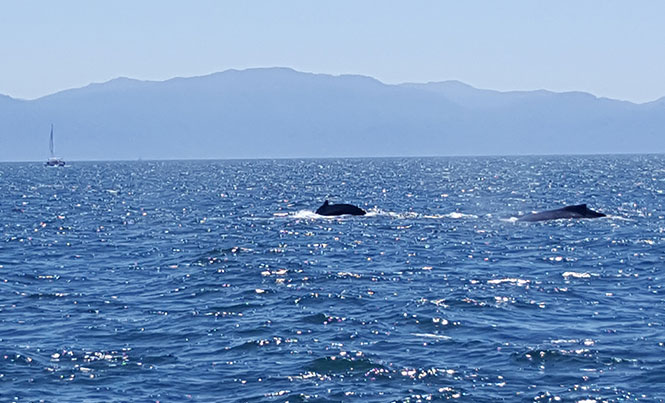 Despite the effects of the climate on their numbers, the annual arrival of the humpback whales to the Bay of Banderas is awaited with much anticipation
One big reason to get excited for winter in the Bay of Banderas area is that you get to see the visiting humpback whales. These amazing animals travel up to 25,000 kilometers from arctic feeding grounds to the tropical areas, where they mate and give birth, before heading back north again. This is provides a great opportunity to see them in their natural habitat.
So what should you expect if go? Unfortunately, this year a little bit less. El Niño is to blame for this, and in the bigger picture, perhaps we are too. The waters of the Pacific that are warmed by El Niño attract more orcas, who eat baby whales whenever they get a chance. There is less necessity for the whales to go all the way to the Bay of Banderas, instead finding warmer breeding grounds along the way. This reduces the number that arrive here, and our opportunities to witness the fierce competition between males. It is an impressive display of jumping, dancing and singing that is performed for their other halves (and us).
Regardless, seeing even one whale is better than none, and the best way to make sure is to go on a tour. You can take one on a big ship, on zodiacs, or even catamarans. No matter which you choose, once underway the search begins. Most of the time the ear works better for this than the eye, with the sounds of spouting water pointing you in the right direction.
If you are lucky you will see some of them jump, or simply arch their bodies and gracefully lower the tail, just like you see in the movies. From personal experience, I get such an incredible feeling of excitement seeing an animal in the wild like this. My camera never leaves my hand for long, in case one decides to jump next to my boat. Unfortunately I must wait another year to try to get that perfect shot, and so will be on the lookout as I welcome them back to the Bay of Banderas once again.