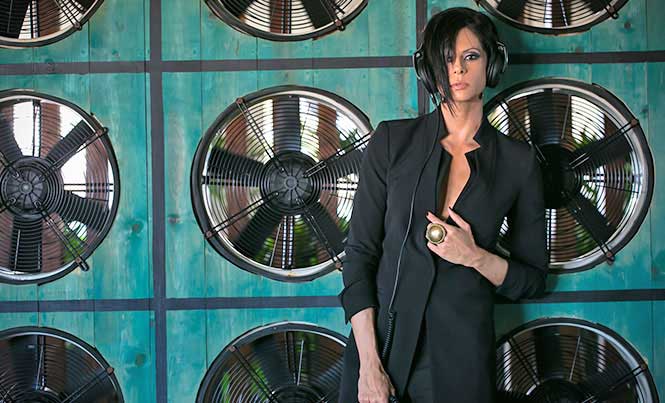 at she loves best, making people happy through music
Playa del Carmen is the jewel of music entertainment. There are so many genres and the musicians behind the curtain are so happy doing what they love best. DJ Dulce Rullán is one of those musicians.  A composer and a DJ, she wants to leave her essence through her music. She is an inspiring woman who is making her mark in the world by making people joyful through music.  Get to know her better through our interview.
The Playa Times: Where are you originally from and how did you find yourself in Playa del Carmen? How long have you been here?
Dulce: I´m from Veracruz (Mexico) and I arrived to Playa in 1999 to start working in the hotel industry.
There are many genres of DJ music, what type of music do you call all your own? 
I absolutely adore the funky, groovy sounds (I grew up in the late 70´s-early 80´s) but in combination with newer genres as Tech-house with Latin and afro influence. That is why I define my style as: SABROSó-tech
I´m also a composer (I play piano).  The piano/composer side expresses my deep and softer and mellow feelings as opposed to the DJ side, which brings up the fun, upbeat and energetic side. We all have different moods in our personality, so combining my piano and my love for house music allows me to express every single aspect.
You can see some of my videos on my Youtube channel: Dulce Rullan
 For my DJ sessions, you can follow me on Soundcloud: www.soundcloud.com/dulcerullan 
What has been the key to your success?
Dulce:  As a performer, I consider myself very lucky because people are naturally drawn to my music so there is not much more to add to the equation. I'm fortunate to play what I love and have the crowd love it, as well.
What do you want your listeners to remember most when they hear your work?
I just want them to remember having the best time of their lives and feeling uplifted and happy, at least for that moment when they danced to my music. That is all I care about, making people happy through music. 
What has been the most fun of starting this venture?
By far, finding my true call in life: Music.
Please check out DJ Dulce's events on her on Facebook/DJ-Dulce Rullán.