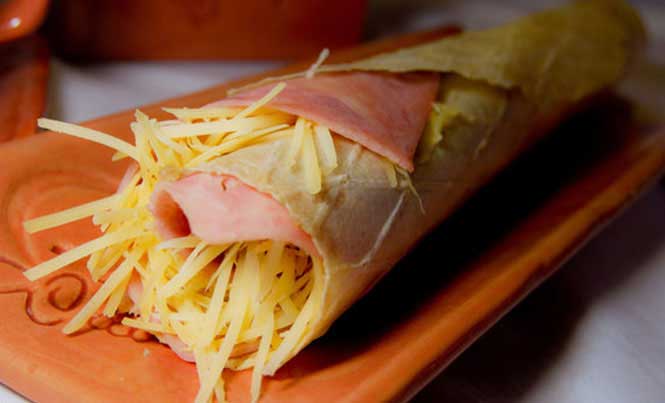 Crispy crepes with your filling of choice make for a tasty Mexican treat
I had the best marquesitas at an event in Merida last month, and although I couldn't convince the chef to share his recipe, our version comes pretty close. This common Yucatan street snack is a simple crispy crepe, with savory, sweet and salty umami flavors.
Makes 14-16 crepes
3 eggs
1/3 cup sugar
6 tablespoons vegetable oil
½ cup flour
¼ teaspoon salt
1/3 cup water
1 cup shredded Gouda or Edam cheese
In a bowl, whisk together the eggs, sugar, flour, salt and water to form a batter. Heat a 20 cm (8-inch) skillet, then brush with a touch of oil. Pour some batter in the hot pan and immediately swirl to coat the bottom, thinly. After one minute, flip the crepe with a spatula and brown the other side. Cook them longer than a typical French crepe to get them crispy. Add one tablespoon of shredded cheese, remove from the pan and roll up. If you want to be authentic, serve it in a piece of rolled parchment paper.
If you use a Swedish-type krumkake iron, they get crispier. Instead of cheese, fill with Nutella, cajeta, condensed milk, banana slices or even savory ingredients. Let your imagination run wild.
You can make the crepes in advance and keep them in an airtight container, but they will soften and will need a little crisping before filling and serving. Dust them with powdered sugar or Mexican cinnamon.