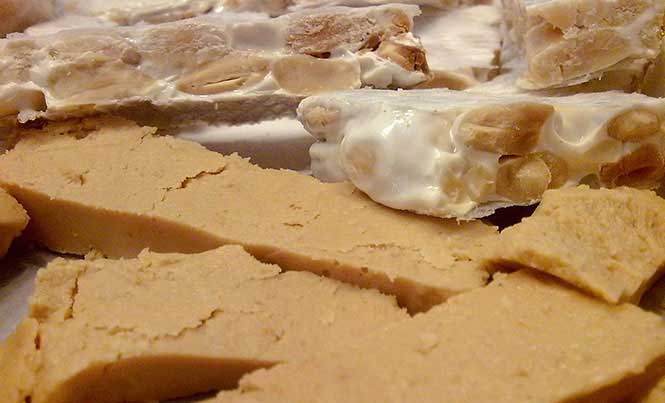 A sweet Mexican treat with Middle Eastern influences
Turron was brought to Mexico by the Spaniards. Some versions are soft, as in the recipe below. Others are harder and more brittle, caused by cooking the sugar mixture longer. Both are inspired by the Middle Eastern sweet called halvah, in which almonds are used instead of peanuts. Double the ingredients if you intend to give this delicious treat as a gift.
Ingredients
½ cup peanuts ground to a fine paste
1 cup confectioners' sugar
1 cup honey
1 teaspoon vanilla
2 tablespoons water
1 tablespoon corn syrup
2 egg whites, beaten until stiff
½ cup blanched peanuts, roasted
Method
Line a small oblong baking pan with greased parchment paper or Silpat. Cut a piece of cardboard the same size as the pan. Mix ground peanuts and sugar. Pour honey, vanilla, corn syrup and water into a saucepan and place over medium heat. Fold egg whites into the peanut and sugar mixture and add to the honey/water in the saucepan. Simmer over a medium heat, stirring constantly with a wooden spoon until the mixture browns and thickens. Stir in the additional roasted peanuts, then remove from heat. Pour into baking pan. Cover with a sheet of parchment paper and place the cardboard on top. Place a medium-heavy object on top , such as a bag of beans. Allow it to cool completely, even for as long as two days, before cutting into squares or strips. Makes about 500g.