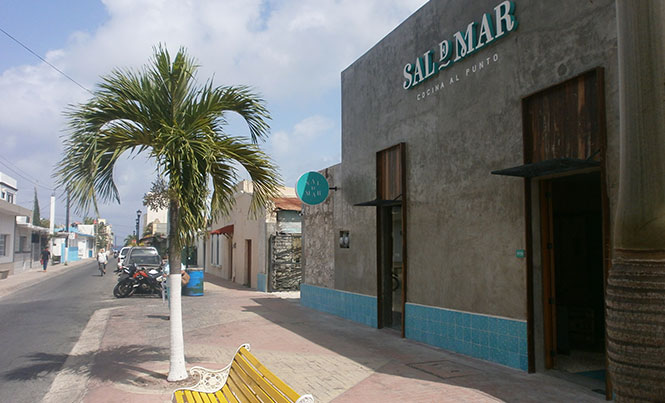 Gourmet cuisine is the order of the day at this recent addition to the island's culinary scene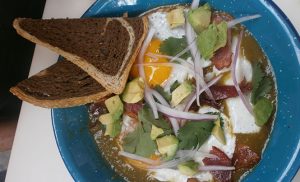 A new and original restaurant in Cozumel, called Sal de Mar (meaning sea salt), opened a few months ago. A mix of vintage and modern, you will be seduced not only by the atmosphere at Sal de Mar, but by its Mediterranean recipes that have a Mexican and Asian twist. Dinner is enjoyed under amazing turquoise, blue, and white ambient lighting. Rustic old stones combined with wood and transparent glass give this restaurant a warm and inviting feeling. Let's meet the owner, Juan Carlos Puja, from Mexico City, to ask him about this beautiful place.
The Playa Times: Juan Carlos, please tell us more about Sal de Mar.
Juan Carlos Puja: With pleasure. I decided to open a gourmet Mediterranean/Mexican restaurant with my friend Alex, an excellent chef from Madrid. This building has special meaning for me because it was my grandfather's home. The restoration incorporated wood and old stone to respect the  design of the original house. The final interior design is now a mix of traditional and modern elements, with a very open structure to create a feeling of symbiosis with nature when eating our delicious cuisine.

Let's talk about the menu; Sal de Mar makes me think about seafood.
We try to work with local products as much as we can. We have the sea around us, and of course, that means seafood. However, we also propose high-quality meat for the meat-eaters. If you prefer a nice fresh fish, I recommend the catch of the day. Our chef Alex knows how to cook the fish perfectly in its own juices. We change the menu every month, according to the seasonal products on offer. We respect the closed season for fishing lobster and shrimp. If you like gourmet cuisine, you will love our breakfasts and dinners.
With gourmet dishes like tuna tartare and baked tomato salad, I highly recommend this delicious restaurant, with prices from 65 to 300 pesos. The breakfast menu offers a long list of egg dishes, and a sweet gourmet menu too, with excellent coffee. It is open from 9 a.m. to 1 p.m. and 6 p.m. to 11 p.m. for breakfast and dinner only. You can find it on Calle 3 between Fifth and Tenth Avenue, five minutes from the ferry.