Puerto Vallarta
Salud Super Food
Part three of Frank's series on the perfect gift for living abroad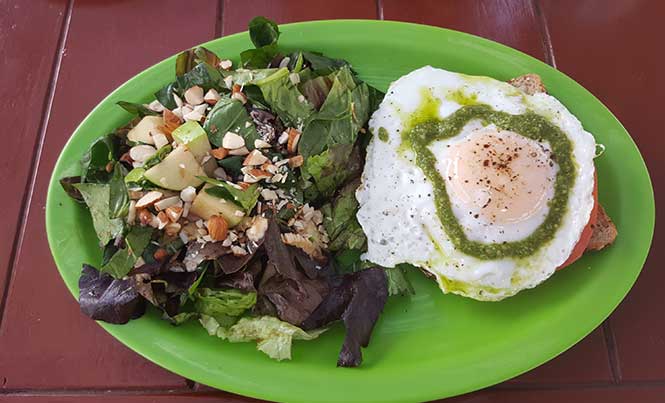 Several weeks ago, I wrote about the perfect gift that I received from my brother, intended for someone who is living abroad. You can read the whole story here; and if you like it, you can read about part two here.
Our third date takes us to TripAdvisor's highest rated restaurant in Puerto Vallarta –  Salud Super Food. Let's see if they lived up to their reputation.
After sitting down in the coffee shop-like interior, I could instantly see what makes this place unique. V or VG signs indicate dishes as vegetarian or vegan-friendly. These creative dishes were filled with ingredients that would make even the biggest BBQ fan enthusiastic.
We arrived late in the morning and opted for breakfast, so I selected the Salud breakfast toast. It did not disappoint. Whoever came up with the genius idea of adding homemade pesto to a sunny-side-up egg should be applauded. The great toast, perfect egg, cheese, tomato and green salad that took up half the plate would each make a great dish by themselves.
On return visits I have tried the grilled chicken sandwich and the ginger-infused oriental chicken with quinoa. Both of them are also great choices, with well-sized portions and a mix of healthy ingredients. From the moment the food arrived until we (almost) licked our plates clean, I concluded that Salud is rightfully at the top of the food chain in Puerto Vallarta.  
Are you interested in visiting? Remember that they only serve breakfast and lunch and close at 5 p.m. My personal recommendation is the Salud breakfast toast.