2017 Red Cross Obstacle Race
Playenses young, and not so young, headed to the motocross track near the highway and CTM to run, jump, climb, and leap over fire to support the Red Cross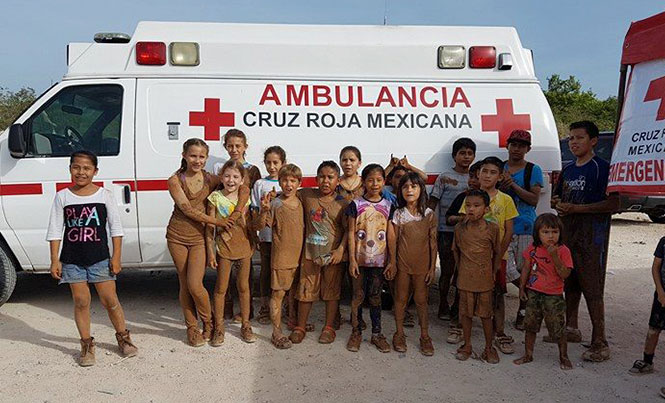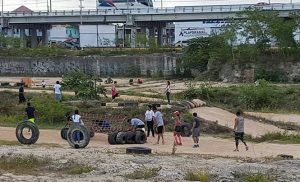 The motocross track was alive on Saturday, May 20 when it hosted the Cruz Roja (Red Cross) obstacle race. Hundreds of people woke up very early (check in was at 6:30 a.m. to start at 7 a.m. on the dot), to run, jump, and crawl through the mud. Some even jumped over fire!  
There were three categories for different levels from children to experts. Vendors lined the cordoned-off street and promoted everything from traditional tamales to kombucha and organic honey, offered by Diosa Organics and Directo del Huerto Gourmet.
The first group to take off from the start was the Elite Adult. The Elite course consisted of the same track, but with a time limit and no help from the workers. These experts and teams of experts were the first off the starting line and included the local firefighters and athletes, including 14-year-old Dreyken Hiojosa Mitchell who surprised everyone by going not just once, but twice, representing Gracie Barra Jiu Jitsu here in Playa del Carmen.
Adult Open was the same course, running down the boulevard, through the soccer field and then to the obstacle course that included jumping over walls, crawling through deep mud, carrying barrels, and moving through other obstacles, such as an empty Rotoplas water tank. The last obstacle of the final stretch was jumping over fire! The Adult Open course had no time limit, and there were workers to help the participants over or under the obstacles.
The Kiddie course was the most satisfying to watch. Children of all ages had their own track to crawl through obstacles and mud, carrying jugs of water and scaling over a pyramid of tires. Many chose to go around and around getting muddier and muddier and running after their parents to hug afterwards. Some parents accepted, others ran away to avoid muddy hugs.
Thank you to Cruz Roja for sponsoring such a great day bringing together both athletes and non-athletes alike to help raise money for their services. Also, thank you to the vendors who offered refreshments to the participants and onlookers. A shout out to all of the participants for doing such a great job and sacrificing their Saturday morning for a good cause.
To see more of the photos and videos from that day, see their Facebook fan page Facebook/cruzrojarace