The grand opening of this healthy fast food restaurant featuring dishes made with products sold in their store
On the evening of June 3, the spotlights were out once again on Fifth Avenue between Calles 40 and 42. The reason: another big event at BIO-Natural. I went to experience the opening of their new restaurant, offering several healthy and delicious lunch choices that are ready to eat.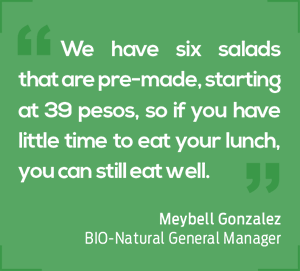 Upon arrival, I gladly accepted one of the spirulina-based smoothie samples that were being given out. It contained banana, rice milk and peanut butter. It was very tasty, and everything required to make one at home was for sale in the shop, including the banana.
"Spirulina is great for energy," I was told by the young man who gave it to me.  "It's a super food, and taking it is equivalent to eating a serving of vegetables. It is a completely natural alga that helps combat anemia and accelerates your metabolism."
After taking a walk around the store and viewing the many products on sale, I spoke with Meybell Gonzalez, our host for the evening. She had just finished welcoming the guests and introducing the band, and I asked her about the evening's festivities.
"BIO-Natural Express is fast and healthy food to eat here or take out," she explained. What we offer in the restaurant can also be made at home. This way people can begin to change their diet for a balance of body, mind and spirit."
I enquired about their move down to this part of town."Six years ago we began here, before moving to 10th and Constituyentes. These are our roots, it's still pretty relaxed around this area, and it's easy to find parking. And the locals can come and shop here."
What about the menu?
"This restaurant has a menu that is the same as that at the location on 10th. We have six salads that are pre-made, starting at 39 pesos, so if you have little time to eat your lunch you can still eat well.
My final question, and the most important, was about the prices. "Does it cost a lot to eat healthily?"
"No," she replied. "Doctors are what cost a lot of money. You can eat well and economically."
For more information about BIO-Natural visit Facebook/BIO-Natural.